Nature Trails & Outdoor Activities
View Interactive Map
Explore the great outdoors of the Monterey Peninsula.
From the natural beauty of the Del Monte Forest to windswept beaches and rocky shores, the opportunities for outdoor adventures are endless. Kayak on Stillwater Cove. Hike through the natural splendor of Pebble Beach. Watch playful sea otters. This is just a taste of what lies beyond the gates of Pebble Beach Resorts.
Animals & Wildlife
Whether you point your binoculars towards the sky or the open sea, there's no shortage of wildlife. The playful antics of sea otters will keep you entertained and the barking of harbor seals and sea lions will immediately grab your attention. Bird watchers will also delight in the handful of popular spots for observing an incredible variety of our winged friends.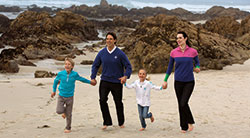 Beaches
Stillwater Cove delivers an unparalleled diving experience along the Monterey coast. Book a kayaking expedition and explore the region's exceptional marine life, including otters and seals. If you're looking for a surfing hotspot, look no further then Spanish Bay Beach. For the ultimate water adventure, hit the waves between September and March.
Cycling
Discover the coastal beauty that surrounds Pebble Beach while biking the many paths that zig, zag and zip along the Pacific coastline. There are many paths dedicated to the avid cyclist in Monterey County and Pebble Beach including the 18-mile Monterey Bay Coastal Recreation Trail and the notable 17-Mile Drive. For more information, please call Adventures By The Sea at (831) 372-1807.
Fishing
Monterey Bay is one of the most diverse marine environments in the world. Several area fishing charters are available for recreational fishing excursions.
Kayaking
Kayaking on Monterey Bay is very popular. You'll gain a completely different perspective with a peaceful paddle around the bay, the points and the coves of the Monterey Peninsula. For more information, please call Adventures By The Sea at (831) 372-1807.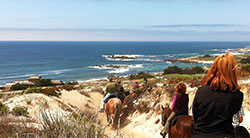 Pebble Beach Nature Trails
Take a walk on the wild side with over 26 miles of riding and hiking trails, many of which originate from the Pebble Beach Equestrian Center. Pebble Beach Company maintains all forest trails and is working to protect and restore damaged areas.
Hiking
Monterey County is riddled with back roads, by-ways and trails that lead to many sightseeing adventures. Those who venture off the beaten pathway will get a chance to experience Monterey's wild side, filled with deer, raccoons, foxes, coyotes, dense forests, open meadows and of course, the scenic beauty that surrounds you every step of the way.
View Map of the Del Monte Forest Hiking and Equestrian Trails