Executive Culinary Team
The Bench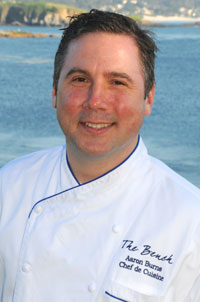 Chef de Cuisine - Aaron Burns
Aaron Burns knew at a very young age that he was destined to be a chef. He was simply fascinated with the food industry in its entirety and could not wait to partake in the rush and excitement of being in the kitchen.
High school summers were consumed with work at the iconic theme park, Opryland. Upon graduation Aaron learned that a culinary apprenticeship was available at The Opryland Hotel (presently Gaylord Hotel) and he jumped at the opportunity. Only twelve applicants were accepted to the three year program and Aaron was thrilled to be one of them. A chef was born.
Aaron's twenty five years on the west coast included training under many masters in the culinary world. His career began at The Ark on Long Beach Peninsula in Washington State. A stint in Napa Valley followed allowing Aaron to work with his mentor, Robert Curry, at Domaine Chandon. While in the wine country Aaron flourished under a number of Michelin-star chefs to include Phillipe Jeanty, Richard Reddington, Joseph Humphries and Mark Dommen – affording him time at Julia's Kitchen and Auberge Soleil.
After twelve years in Napa, having developed a distinctive culinary perspective and refined techniques, Aaron left Napa for Palm Springs. There he took the helm as Executive Chef at The Parker and subsequently The Riviera Resort and Spa.
The natural beauty, plentiful produce and glorious weather of the Central Coast called to Aaron as the perfect spot for his next adventure. First stop, his local favorite, Casanova – working with Johnny De Vivo. Post Ranch beckoned and Aaron enjoyed working alongside John Cox at the celebrated Sierra Mar Restaurant at Post Ranch.
Pebble Beach Resorts is delighted to have Aaron join The Bench as Chef de Cuisine. Aaron brings his refined culinary skills and a wealth of culinary insight. His style, based on fresh, local, sustainable ingredients is heavily influenced by French technique.
Aaron's free time allows him to enjoy the beach, biking, reading and attending live concerts with his 19 year old son.