Callaway Pebble Beach Invitational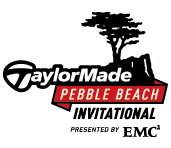 Contact
For general inquiries,
please call
(877) 853-5864
2012 Tournament Scores


Final - Professionals
View Photo Gallery
on Facebook
Presented by EMC • November 19-24, 2013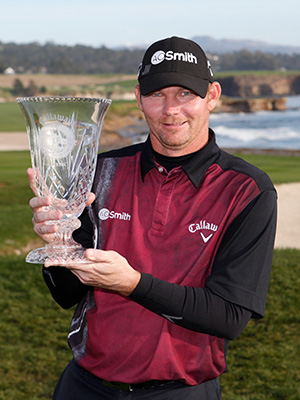 Congratulations to Tommy Gainey, winner of the 2012 Callaway Pebble Beach Invitational!
This Pro-Am tournament is held on Del Monte Golf Course, Spyglass Hill Golf Course and Pebble Beach Golf Links.
For information, please call (877) 853-5864
Tournament Overview
Founded in 1972, the Callaway Pebble Beach Invitational has long claimed a unique mantle as the world's only tournament that matches players from the PGA, the LPGA, the Champions, and Web.com Tours. All players golf in head-to-head competition for the same purse, along with teams of four amateurs who are matched with a different pro each day. The event's innovative tee-placement system, based on the average length of shots in each tour, makes this competition possible.
2012 Purse
$300,000 ($60,000 for 1st place)
The Field
Stars of today and tomorrow are included among the many professionals who compete in the Invitational. Past British Open Champion Tom Lehman won the title in 1998, and PGA Champions Mark Brooks and Rich Beem are usual competitors. Past participants from the PGA TOUR include Rocco Mediate, John Cook, Kirk Triplett and Arron Oberholser, from the Champions Tour Bruce Fleisher and Jim Thorpe, and from the LPGA TOUR Kelli Kuehne, Carin Koch, Jill McGill and Janice Moodie.
Honorary Host
U.S. and British Open Champion and current NBC Golf Analyst Johnny Miller is an Honorary Host of the Callaway Golf Pebble Beach Invitational.
Format
Following the first 3 rounds of tournament play, there will be a 54 hole cut to 10 amateur teams, plus all ties, and the low 40 professionals and ties.
Where & When
Tournament rounds will be at Pebble Beach, Spyglass Hill, and Del Monte simultaneously on Thursday through Saturday, November 15 - 18, 2012, and at Pebble Beach Golf Links for the final round on Sunday, November 18, 2012.
Tickets
The public is welcome free of charge all days.
Spectating
The Invitational has a special charm for those who truly love to watch the game of golf played at its highest level. Small crowds are the norm and the fairways are open for spectators to walk down directly behind the players. Not only are the views of the golfers wide open and close-up but getting to the course is easy, as parking is never a problem.
Charities
Kiwanas Club of Monterey and AT&T Pebble Beach Junior Golf Association
Previous Tournament Winners
2011 Champion

Harrison Frazar

2010 Champion

John Mallinger

2009 Champion

Mark Brooks

2008 Champion

Tommy Armour III

2007 Champion

Tommy Armour III

2006 Champion

Jason Bohn