Nature Valley First Tee Open at Pebble Beach
September 13-18, 2016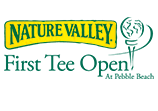 Contact
For more information, call The Monterey Peninsula Foundation at
(831) 649-1533.
Official Website
www.thefirstteeopen.com
"That's God's country there. The First Tee Open is very special and to be on the Monterey Peninsula is great. The golf courses were in really good shape. Pebble Beach is more difficult now and the new bunkering has really tightened some things up. It's been a good change."
– MARK O'MEARA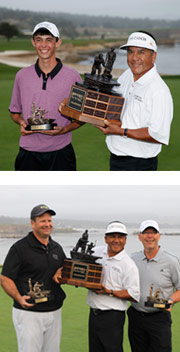 The 2015 Nature Valley First Tee Open at Pebble Beach has come to a close, and it was a nail-biter! Champions Tour player Esteban Toledo fended off tough competitors like World Golf Hall of Famers, Tom Watson and Colin Montgomerie to take the title with a 54-hole score of 9-under-par, his third Champions Tour victory. The First Tee of the Central Coast junior, Jack Avrit paired with five-time AT&T Pebble Beach Pro-Am winner, Mark O'Meara to win the Pro-Junior competition, and the duo of Keith Woodward and Mark Van Buskirk squeezed out a one-shot victory to win the Amateur contest. Congratulations to all the players who competed in the 2015 event and many thanks to the volunteers and spectators for their support. We look forward to seeing you again in 2016!
This tournament on the Champions Tour is held at Pebble Beach Golf Links and Poppy Hills Golf Course. Each foursome includes a Champions Tour Player, an accomplished junior player (age 15 to 18) and two paying amateurs. This format provides spectators with the opportunity to see past champions playing alongside the future stars of the PGA and LPGA TOUR. Admission is free to this event.
The Nature Valley First Tee Open at Pebble Beach serves as an international showcase for The First Tee, an initiative to impact the lives of young people by providing learning facilities and educational programs that promote character development and life-enhancing values through the game of golf.
View 2015 Round 1 & 2 Pairings & Tee Times [PDF]

View 2015 Final Round Pairings & Tee Times [PDF]
View Nature Valley First Tee Open at Pebble Beach photos on Facebook