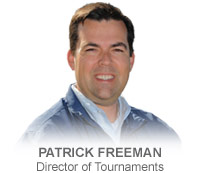 Stay, Play & Compete!
Pebble Beach tournaments created just for YOU.
Pebble Beach Resorts has played host to some of the most famous golf tournaments in history, including five U.S. Open Championships and more than 60 AT&T Pebble Beach Pro-Ams. But did you know that it's also home to multiple tournaments in which everyone is invited to participate? Pebble Beach Company Director of Tournaments, Patrick Freeman, answers some frequently asked questions about these very unique and exciting events!
Frequently Asked Questions
How many tournaments does Pebble Beach Resorts operate and how do they all differ?
We run 13 events each year and there is truly something for everyone. We have tournaments that feature several different date options, formats and price points.
Are the tournaments available for both individual guests and large groups?
Most of our events are team focused, but every participant plays their own ball. We do have a couple of individual events as well. We welcome large groups of people traveling together and assist them with their own "mini" tournament at the same time they are competing in ours.
What are the benefits of playing in a tournament at Pebble Beach Resorts?
The reasons for visiting the Resorts are well-documented. When you add in the element of potentially winning a championship at Pebble Beach, it takes things to a whole new level. Most of our players also appreciate the way we package the different components of an event from top to bottom. Our tournament team is here to cater to your every need, much like a personal concierge.
Where are the events played? Do participants play more than one course?
All of our events include at least two rounds, but most have three. A typical tournament rotation utilizes Pebble Beach Golf Links, Spyglass Hill Golf Course, The Links at Spanish Bay and Del Monte Golf Course, or a combination of those courses.
Can players of any skill level participate?
Yes. Most of our events are net format, meaning the scores compensate for a player's handicap. We do recommend, however, that players have some sort of competitive background. There is a level of pressure that gets ramped up when playing in a tournament.
What other activities encompass the tournament experience?
We typically hold a welcome reception, post-tournament function or dinner and an awards ceremony. All players also receive a tee prize upon arrival and are eligible for awards.
What is the most unique aspect of tournaments at Pebble Beach Resorts?
One of the things people recognize about Pebble Beach is our decorated tournament past. The best players in the history of golf have won here. Competing and potentially winning an event at Pebble Beach is a very exhilarating thought. I would encourage everyone to take part in this incredible opportunity!
For more information, call (877) 853-5864 or email Brittany Palone at paloneb@pebblebeach.com