Become a Better Golfer
Golf tips brought to you by the Pebble Beach Golf Academy
Golf is a Game of Misses
By Laird Small and Dan Pasquariello of the Pebble Beach Golf Academy
Ben Hogan, arguably the greatest ball striker of all time, once said that he was happy if he hit 2 shots per round exactly the way he had intended. So, with that thought in mind, let's discuss how to hedge our bets by knowing where to miss.
Good players always have a bail out spot in the back of their mind, which is a place they can go if they're unsure of the shot they want to hit or going for the flag is too dangerous. I remember hosting a clinic with David Duval shortly after he shot 59 in the final round of the 1999 Bob Hope Chrysler Classic. Duval was discussing approach shots and told the crowd that any time he was unsure of a shot, he would choose a club or two less than he needed and would aim to the front of the green or short of the green. From that position, he could ensure an uphill chip or putt and a decent shot at making par as most greens slope from back to front. If he was too aggressive, or played a shot he wasn't entirely committed to, or missed badly, he could find himself in an impossible position and facing a sure bogey. By choosing to play more conservatively and hit to a safe zone, he would constantly take the potential for a big number off his scorecard.
In her book, Golf Annika's Way, hall of famer Annika Sorenstam wrote: "Golf is not just a game of great shots. It's a game of bad shots too. The champions are the ones who hit the fewest bad shots and who are smart enough to keep their bad shots from being terrible." This is great advice. If every time you missed the green you left the ball in a spot where you still had the opportunity to chip close and make the putt, you'd eliminate the big number and keep your scores low. You're going to miss many greens in your lifetime, but how well you manage those misses is very important.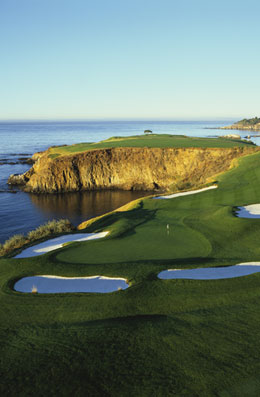 So, let's take a specific example of a situation at Pebble Beach Golf Links to clarify this thought process. The 8th hole is one of the greatest par 4's in the world. It requires a solid tee shot to the middle of the fairway and then a downhill approach over the ocean to a tiny green perched on the edge of a cliff. Let's say your tee shot has left you 200 yards to the green. How should we play this shot? Should we go for the green and the glory?
The first step is to establish your chances for success. For me personally, if I cannot visualize success at least 5 out of 10 times, I rule out the shot. In this case, I am quite confident from 200 yards and I will be going for the green, but you may not be. Your chances from that distance may be 1 out of 10. If the odds are against you in your mind, it is time to consider the alternatives. The beauty of Pebble Beach's design is that there is always an option for you. In this case, a safe 125-150 yard shot left and short of the green eliminates the threat of the ocean and leaves you a chance to pitch and putt for par. You have taken the threat of double bogey or more off of your scorecard! Well done!
Learn more about the Pebble Beach Golf Academy
A Lesson From Tom Watson
By Laird Small, Pebble Beach Golf Academy Director
As the Director of the Pebble Beach Golf Academy, I have had the opportunity to work with some of the world's best players and instructors. Tom Watson certainly fits that bill as a winner of eight Major Championships, including the 1982 United States Open here at Pebble Beach Golf Links. I was intrigued when Tom told me that even players of his caliber lose the rhythm of their swings during a round of golf. Thankfully, he told me what he did to get his tempo and timing back, and I am excited to share it with you!
Grip the club on the shaft near the club head. So, basically, you have turned the club upside down to where the bottom of the grip is facing the ground instead of the bottom of the club head
Make a few practice swings. The club should feel extremely light in your hands
With this lightness, you will quickly find where your swing is lacking rhythm and tempo
Now turn the club back around to its normal orientation. You will have a new awareness of the weight of the club head and your swing will become more smooth
Once you have your rhythm back, your body, hands and arms will begin working together again, which will result in solid golf shots!
Try this drill at the driving range or even at home. Tom and I believe you will like the results. And when the wheels start to come off on the course, you will have a quick fix to get you right back on track.
Learn more about the Pebble Beach Golf Academy
Match Your Stroke to Your Technique & Equipment
By Dan Pasquariello, Pebble Beach Golf Academy Master Instructor
Most golfers aren't sure if putting is an art, a science or a religious experience. Through my years of teaching all levels of golfers, I have come to the conclusion that it is a little bit of each.
You can make your scores much lower by improving your putting; and you can improve your putting by having a plan in place.
First of all, there are three accepted ways to putt:
Straight back-and-through
On an arc
Inside to down-the-line (my personal preference)
For each technique there are priorities that must be adhered to. If you put straight back-and-through, then you need to go back and through the same length and speed to gain the desired results (distance and direction). If you putt on an arc then you must follow through longer than you go back but also have the same tempo in both directions. Finally, if you putt from inside to down-the-line you must go back longer than you go through (no don't decelerate, but hit and hold)!
Along with these formulas, your equipment should match your stroke and technique. For example, for the straight back-and-through technique you need to putt with a center-shafted or blade putter; for the arc putter, you would do better with a heel-shafted putter (perhaps a mallet-shaped head) and for the inside to down-the-line technique you would fare better with a cavity-back putter.
Putting is such an individual endeavor that seems to be as elusive as capturing the wind. The best putters on this planet…"feel the line", "smell the dirt in the bottom of the cup" and "see an imaginary roadmap to the hole" but for us mere mortals having a "game plan" may take us one step closer to our objective of shooting lower scores, or at least, becoming a better putter.
Learn more about the Pebble Beach Golf Academy
The Belly Putter is Here to Stay!
By Laird Small, Pebble Beach Golf Academy Director
Coming off a major championship victory at the Atlanta Athletic Club in August, Keegan Bradley is just one of many PGA Tour players switching to the belly putter. This trend doesn't look like it's stopping anytime soon, so here are a few important notes if you're thinking about switching.
The length and set up are vital. For the average golfer, most belly putters are 42 to 44 inches long, but you may need to have one custom-fitted for your game.
For the set up of the grip, the location is approximately one inch to the left, or target side, of your belly button—not in it. This will allow you to strike the ball slightly on the up swing, giving you a good roll and great impact. Conversely, the ball should be positioned just ahead of your stance's center and your weight distribution equal on your left and right foot.
Studies show the belly putter is more consistent than conventional putters within the 15-foot range. Many professionals use it as a way to practice their stroke as it helps with setup, tempo and a feeling of releasing the putter head. Give it a try—whether it's on the practice green or on the 18th at Pebble Beach Golf Links, the belly putter could be the thing to take your game from good to great!
Learn more about the Pebble Beach Golf Academy
Getting a Grip on Putting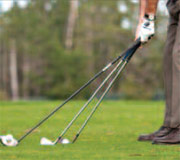 With your full golf swing, your grip on the club runs diagonal to your hands. This allows you to hinge your wrist through the downswing and upswing, creating both speed and power.
When putting, you need to take an opposite approach. You want to control speed and power so you can better control the distance of your putts. Most three putts come from the first putt not being the correct distance. By changing your grip, you can better control the putter and its speed to more accurately and repeatedly control your putting distance.

Your putting grip should run up your palm, roughly along your lifeline. The putter shaft should run parallel to both of your forearms. This grip and a relaxed stance help to minimize the amount of wrist action and create a more consistent one-levered stroke.
For additional help on shaving putting strokes off of your scorecard, contact the Pebble Beach Golf Academy at (831) 622-8650.
Learn more about the Pebble Beach Golf Academy
Click on the links below to read the full articles.
Click on the links below to read articles by Dan Pasquariello.