Technology
Pebble Beach Golf Academy & Practice Facility
Robotic Swing Trainer
Taking swing instruction and implementation to a whole new level, this revolutionary technology lets a student feel and duplicate the perfect swing. A Pebble Beach Golf Academy professional will be able to quickly diagnose your most significant swing flaws, and then calibrate the Golf Robot to allow you to experience what a correct swing should feel like. This is the most advanced and effective golf improvement technology in the industry.
V1 Video Swing Analysis
The Pebble Beach Golf Academy uses cutting-edge HD high speed video cameras and the latest golf motion analysis software from V1 Golf to evaluate your swing.
AMM 3D Swing Analysis System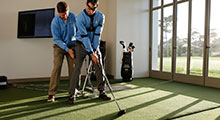 The AMM technology will provide a 3D motion analysis of your golf swing.
Twelve small sensors are placed at strategic points on the body to capture and record data that is tabulated, graphed and displayed using a 3D model. Analysis of the swing can then be viewed and animated from any angle.
FlightScope Launch Monitor
Using 3D Doppler technology, FlightScope measures the "Angle of Attack" and 23 other important club and ball data parameters, such as club head speed, club path, vertical and horizontal swing plane, carry distance, total distance, shot height, flight time, ball spin and more.
Science and Motion BalanceLab
A high resolution force plate used to evaluate balance and weight transfer during a golf swing. Graphic reports show individual swing characteristics and allow instructors to tailor and test specific training interventions.
Science and Motion PuttLab
This analysis and training system is based on accurate ultrasound measurements, using 28 parameters of the putting stroke.
Quintic Ball Roll Putting Analysis System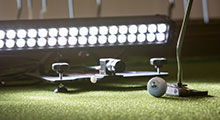 This system will dramatically alter the way you think about the nature of putting, opening your eyes not only to alignment issues, but also to the nuances of ball speed, spin, launch angle and the nature of true roll. Quintic does all this through a state-of-the-art camera (operating a 360 frames-per-second) which automatically recognizes markers on the golf ball, and instantly produces a fully digitized analysis of each putt.