Hotel Rates

The Lodge at Pebble Beach
Rooms
1 BDR
2 BDR
Garden View
$790
Fairway View
$840
Partial Ocean View
$900
Garden Spa Room
$1,010
Ocean View
$1,070
Ocean Studio
$1,360
$2,430
Main Building Suite
$1,980
$3,050
Fremont Suite
$2,030
$3,040
Vizcaino Suite
$2,200
$3,270
Alvarado Suite
$2,200
$3,270
Colton Suite
$2,500
Sloat Suite
$2,600
$3,960
Dogs are welcome at The Lodge. A $70 per room per night fee will be assessed.

The Inn at Spanish Bay
Rooms
1 BDR
2 BDR
Garden View
$670
Forest View
$790
Scenic View
$880
Ocean View
$1,000
Executive Suites
Forest View
$1,390
$2,180
Scenic View
$1,390
$2,270
Ocean View
$1,580
$2,580
Honeymoon Suite
$1,490
Governor's Suite
$2,650
$3,530
Presidential Suite
$2,910
$3,700
Spanish Bay Suite
$3,060
$3,850

Casa Palmero
Estate Room
$940
Estate Studio
$1,010
Spa Room
$1,090
Courtyard Suite
$1,480
Palmero Suite
$2,990

Tennis Fees

The Beach & Tennis Club and The Spanish Bay Club charge $20 per person, per day for resort guests.

Occupancy tax, a $2 Monterey County tourism assessment and a service charge of $20 (at The Lodge) or $25 (at The Inn and Casa Palmero) will be assessed per room per night. The service charge is distributed to Front Desk, Guest Services, Porter/Valets, Housekeeping, and Resort Shuttle employees; the hotel retains a small portion as an administrative fee.
A deposit is required to secure reservations. It is advisable to secure golf, spa and dining reservations at time of booking. For room, golf, spa and dining reservations, call (800) 654-9300. All accommodations and golf rates are subject to change without notice. Please call to confirm current rates and availability. Pebble Beach Resorts encourages the use of soft-spiked shoes on golf courses.

Golf Rates

Pebble Beach Golf Links
Resort Guests
$495
Non-Resort Guests
$495 + cart fee
Cart Fee
$40 per person
Caddie Fee
$80 per bag
Forecaddie
$40 pp/3 player min.
Rental Clubs
$95 per bag + tax

Spyglass Hill Golf Course
Resort Guests
$395
Non-Resort Guests
$395 + cart fee
Twilight Resort Guest
$210
Twilight Non-Resort Guest
$210 + cart fee
Cart Fee
$40 per person
Caddie Fee
$80 per bag
Forecaddie
$40 pp/3 player min.
Rental Clubs
$95 per bag + tax

The Links at Spanish Bay
Resort Guests
$270
Non-Resort Guests
$270 + cart fee
Twilight Resort Guest
$155
Twilight Non-Resort Guest
$155 + cart fee
Cart Fee
$40 per person
Caddie Fee
$80 per bag
Forecaddie
$40 pp/3 player min.
Rental Clubs
$95 per bag + tax

Del Monte Golf Course
Resort Guests
$110 + cart fee
Hyatt Guests
$110 + cart fee
Non-Resort Guests
$110 + cart fee
Duke's Card
(Mon.-Fri.)
$47 + cart fee
Duke's Card
(Sat.-Sun.)
$62 + cart fee
Twilight
$40 + cart fee
Cart Fee
$25 per person
Pull Cart
$10
Caddie Fee
$80 per bag
Forecaddie
$40 pp/3 player min.
Rental Clubs
$65 per bag + tax

Pebble Beach Golf Academy & Practice Facility
The world's premier golf instruction and practice experience, featuring internationally renowned golf instructors, state-of-the-art technology and cutting-edge training facilities.
For more information, or to arrange lessons, call (831) 622-8650

Peter Hay Golf Course
The only 9-hole par-3 course on the Monterey Peninsula, Peter Hay Golf Course is the perfect place to work on your short game or introduce the game to children or beginners. $30 for adults, $10 for juniors (ages 13-17) and free for children 12 and under. $5 for rental clubs.
For more information, call (831) 622-8723
Room and golf rates are valid from April 1, 2015 through March 31, 2016. Rates are subject to change and exclude tax and service charge. View room rates effective April 1, 2016
Guests of The Lodge at Pebble Beach and The Inn at Spanish Bay may book up to 18 months in advance. Guests of Casa Palmero may book up to 12 months in advance, subject to availability. We recommend booking early to avoid disappointment.
The following Golf Booking Guidelines are subject to availability:
Hotel guests are encouraged to request golf tee times at time of room booking. A minimum 2-night stay is required to play Pebble Beach Golf Links. During our peak season (September - November) a 3-night stay is required to play Pebble Beach Golf Links on Thursday through Sunday. Additional dates throughout the year may require a 3-night stay at the Resort's discretion. Please inquire about minimum stay requirements for playing multiple rounds. On all other courses, 1 round may be booked per night of stay. Up to 2 players may be booked per room, based on room occupancy. Non-Resort guests may book The Links at Spanish Bay or Del Monte Golf Course up to 6 months in advance, Spyglass Hill Golf Course up to 1 month in advance, and Pebble Beach Golf Links 1 day in advance.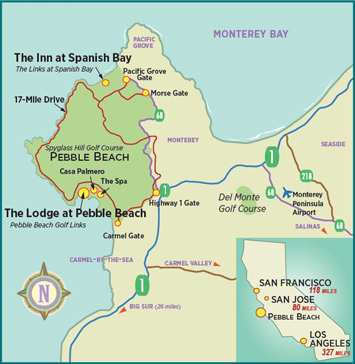 Pebble Beach Resorts is in Del Monte Forest on the coast of California's Monterey Peninsula. Pebble Beach Resorts is 118 miles (190 km) south of San Francisco, 80 miles (129 km) south of San Jose and 327 miles (527 km) north of Los Angeles.