Reservations: (888) 565-7615
Barber Services
Men's Haircut
$45
Score style points with a traditional men's haircut.
Hair and Scalp Rejuvenator
65 minutes $125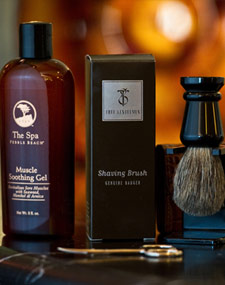 Restore balance and renew body and shine with our deep-conditioning treatment recommended for all hair types. Includes styling and blow dry.
Classic Shave
$45
Treat yourself to the quintessential barbershop service that features hot towels and a straight-razor shave.
Championship Shave
$85
Ideal for heavy or coarse beards, this deluxe straight-razor shave begins with hot towels and a deep facial cleansing. Relax completely during a massage for your scalp and face, followed by cool, soothing face compresses.
Head Shave
$45
The Eagle
$85
Score style points with a Traditional Men's Haircut and Classic Shave.
The Bald Eagle
$85
For a confident, sleek look, receive a Head Shave and Classic Shave.
The Masters
$210
The ultimate service provides a Championship Shave, Men's Haircut, Express Manicure and Brow Cleanup.
Please come in with a maximum two days' beard growth.
For Spa reservations, please call (831) 649-7615 or (888) 565-7615.