Reservations: (888) 565-7615
Body Treatments
Bring out your inner glow
The Spa at Pebble Beach features body treatments from scrubs to blissful flotation wraps.
Scrubs & Smoothers
All scrub services are a full body exfoliation (not including the face) on a Vichy shower table.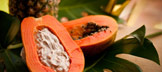 Papaya Pineapple Scrub
45 minutes $155
Invigorate and exfoliate with natural papaya and pineapple enzymes and finely crushed grape seeds that gently smooth your skin.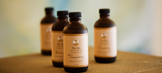 Vanilla Sugar Scrub
45 minutes $155
Indulge in this full-body smoother, a gentle alternative to the salt scrub, that helps lock in vital moisture to protect and condition the skin.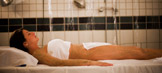 Espresso Limon Slimming Treatment
75 minutes $230
This detoxifying, firming treatment begins with body brushing to stimulate lymphatic drainage. Enjoy a relaxing foot and scalp massage.
The Body Bronzer

45 minutes $155

Enjoy the results of the sun without its harmful effects. After a cleansing scrub, an application of self-tanner brings out your natural color.

Lasapa Lelima Purification

100 minutes $270

Featuring locally grown coastal and white sage, elderberry and blue corn meal, this combination scrub, wrap and massage creates an environment for healing to occur naturally.

Sea-Salt Body Scrub

45 minutes $155

Our most invigorating scrub combines mineral-rich sea salts with aromatherapy oils to deeply cleanse, exfoliate and soften the skin.

Red Flower Ritual

75 minutes $230

Be purified and scrubbed with ginger and bamboo, polished with cherry blossom and rice and hydrated with rose, camelia and plum. Finish with a massage using wild lime silk oil.

Nature

75 minutes $230

Gentle exfoliation with a blend of bioactive berries. Rare cloudberry in a light textured cream regenerates cells to leave skin soft as a cloud.

The Palmero

75 minutes $230

Tropical pampering begins with our luscious papaya-pineapple enzyme scrub. Then, while wrapped in a hydrating propolis wrap, warm kukui coconut oil is massaged deeply into your scalp.
Flotation Wraps
Couples, friends or family can enjoy these services together. Our dry flotation beds allow the body to float freely in heated bliss. Perfect before a massage or after a scrub.
45 minutes - $150 for one person, $230 for two people
Swiss Crème Wrap

This wrap is heaven-on-earth for your skin—a magical formula that infuses your skin with moisture and leaves it as smooth as silk.

Blueberry Slimming Wrap

Stimulate blood circulation to smooth and slim your targeted areas with this firming wrap.

Restorative Nap

After a flotation wrap, remain in your deeply relaxed state for a restorative nap and awaken refreshed and renewed.

25 minutes $40 per person
Hydrating Lavender Wrap
Luxuriate and hydrate with California grown lavender and olive oil balm.
For Spa reservations, please call (831) 649-7615 or (888) 565-7615.