Dan Pasquariello
---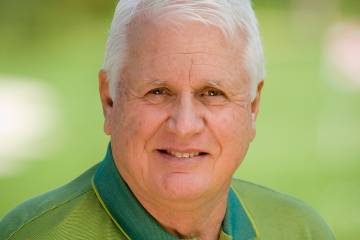 Selected by Golf Magazine as one of its "100 Best Teachers in America", Dan Pasquariello has instructed more than 100,000 students from around the world. A PGA TOUR player from 1975 to 1977, Dan went on to be selected as one of Golf Digest's Top Teachers in State, one of Northern California's Top 9 Teachers and has been Hawaii's Teacher of the Year on three separate occasions.
He is the author of The ABC's of Golf, The Kapalua Golf School Manual and Simply Golf, and has contributed a variety of articles to Golf Digest, GOLF Magazine, Senior Golfer, PGA Magazine, Hawaii Golfer and Golf Industry Hawaii.
Dan's list of students over the years includes PGA TOUR winners (Bruce Fleisher, Olin Browne and George Burns), professional athletes (Fran Tarkenton, Jerome Bettis and James Worthy), celebrities (Samuel L. Jackson, Trey Parker & Matt Stone, Alice Cooper, Jennifer Tilley and Ron Perlman), senior government officials, CEOs and captains of industry.
In addition, Dan has coordinated and instructed at numerous YPO golf colleges and family golf retreats, CEO forums, Pepsi-Cola outings and Unisys Golf Retreats, along with conducting multiple Teaching Company Clinics in Jamaica, Cancun, Mexico and other worldwide destinations