The official app of Pebble Beach Resorts is now available for download in the App Store or on Google Play!
To help you get the most out of your visit – no matter how long it may be – Pebble Beach Resorts has teamed up with IBM to create an immersive visitor app, complete with a virtual concierge.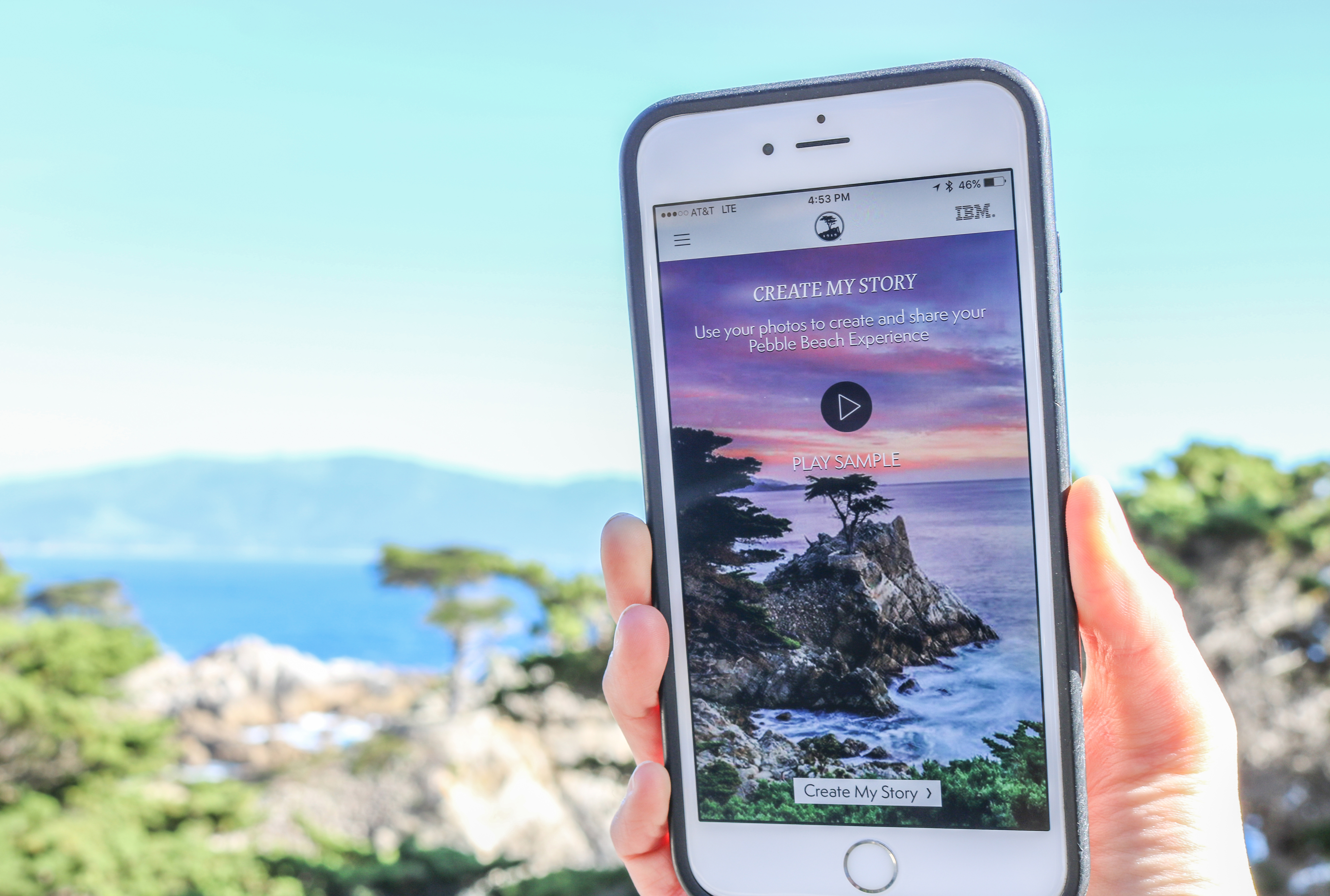 Whether you are simply spending a free afternoon driving one of the most scenic roads in America, or you are staying at Pebble Beach Resorts on a bucket-list trip, the Pebble Beach app will act as your dependable tour guide during your stay.
Learn fun facts and history throughout 17-Mile Drive. Find those Instagram-worthy spots. Even turn your photos into a custom movie you can show off to your friends.
All you have to do is download the free Pebble Beach app to unlock these fun features: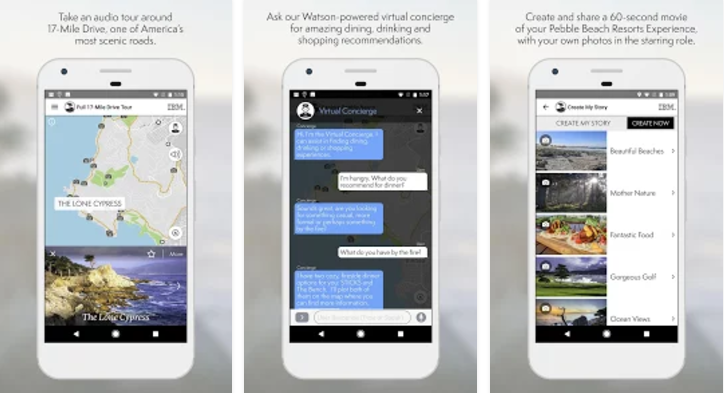 Explore Pebble Beach
A sortable map of 17-Mile Drive allows you to display Tour Stops, Shops and/or Dining destinations. Acquaint yourself with the bounty of options at the Inn at Spanish Bay and The Lodge at Pebble Beach.
You can even dive into the menus at each restaurant, check out photos of food, look up hours, and call straight from the app to book a reservation, as well as route yourself directly there once your grumbling stomach tells you it's time to eat.
17-Mile Drive Tours
At the heart of every visitor experience to Pebble Beach is exploring the magnificent scenery surrounding 17-Mile Drive. No matter which Pebble Beach gate you enter, just follow the red dotted line, and let our audio tour fill you in with everything you need to know about what you're seeing.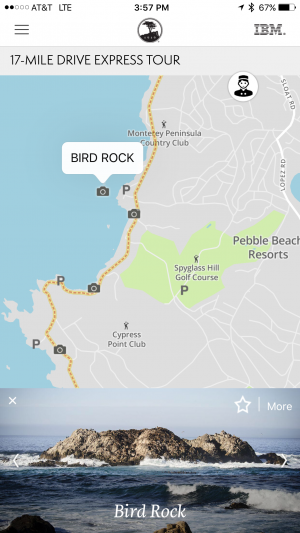 The Express Tour highlights the most sensational and memorable stops along 17-Mile Drive, including Spanish Bay Beach, Point Joe, Bird Rock and The Lone Cypress.
The Full Tour captures nearly 20 points of interest, not only showing you the stunning coastline, but also taking you into the serene forest for some surprising views as high as 800 feet above sea level.
In the app, each stop on 17-Mile Drive is loaded with fun facts about its significance and history, as well as photos. You can also route directly to specific stops after thumbing through photos of each destination, or save your favorite locations for later.
Virtual Concierge
Still getting familiar with the app? You can cut straight to the chase and ask an on-demand Virtual Concierge how to help you answer dining, drinking or shopping questions. Looking for happy hour drinks? Fireside dining? A meal to celebrate a special occasion? Just tap the Virtual Concierge button and start talking or typing.
"The clearest way to define it is having your own concierge with you," said Big-Wave Surfer Laird Hamilton about a recent trip to Pebble Beach with the app. "What I experienced was not only the informative aspect of whether you were out on a sight seeing drive, it was giving us all this information which enhanced the experience."
Create My Story
With photos of every stop and camera icons calling out every point of interest on 17-Mile Drive, this app hopefully provides inspiration to snap some shareable moments. A fun feature of the app is called "Create My Story", which allows you to choose your favorite photos from your trip and turn them into a short video set to music.
Once you've built the video to your liking, you can easily share it to your social media accounts straight from the app. Use the hashtag #MyPebbleBeach to share your story with us!
Today at Pebble Beach
Find out when the bagpiper is about to play, catch Trivia Night or a special pouring at Stave Wine Cellar, or stay late from some jazz at Traps. The Today at Pebble Beach menu item helps you stay in-the-know about all that's happening around Pebble Beach Resorts during your visit.
And More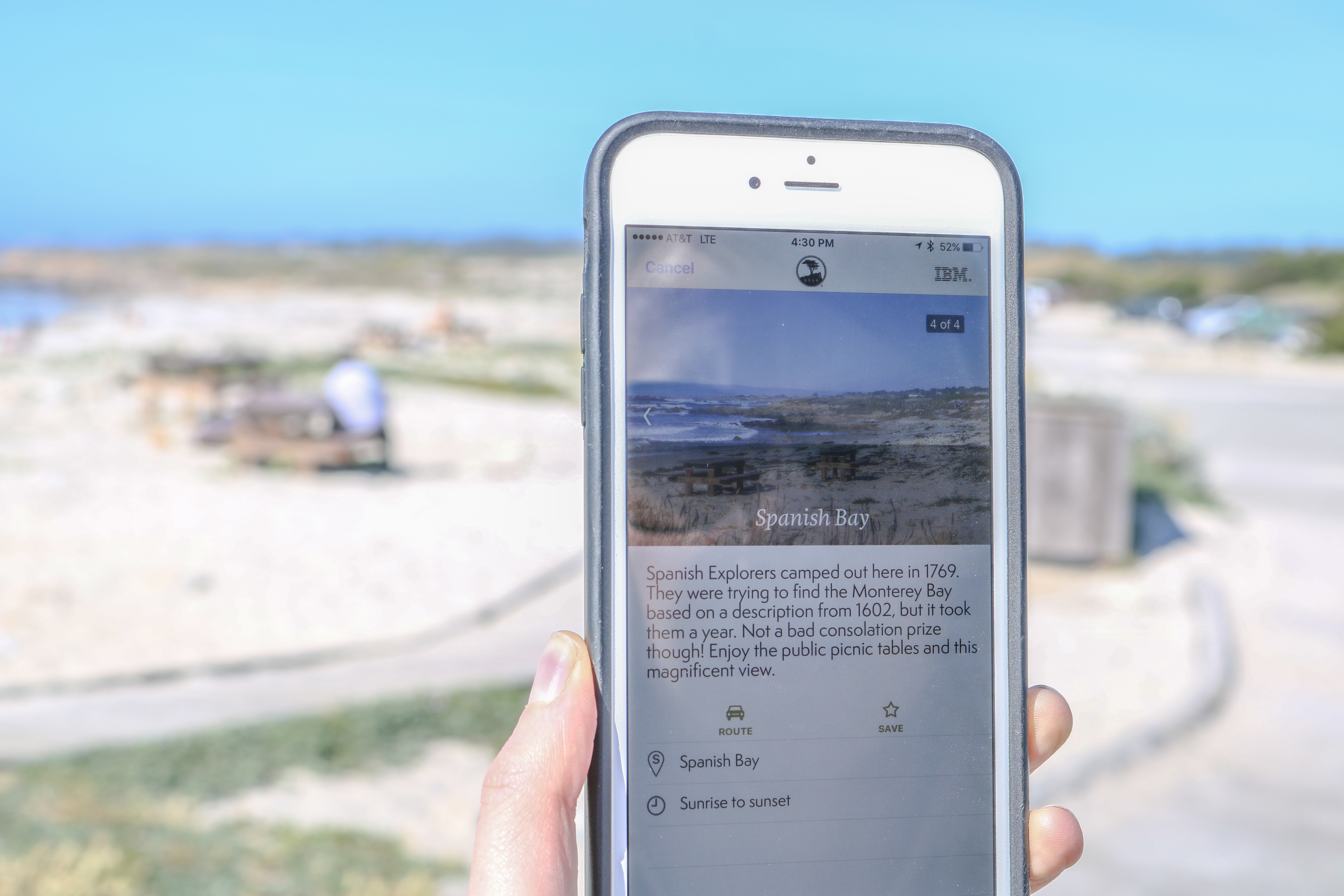 The Pebble Beach app is constantly learning from the questions you ask it, as well as the most popular places guests frequent around 17-Mile Drive.
"Obviously time is the most valuable thing we have and it seems like normally technology is eating up a lot of our time, but this is one situation where I felt like we were getting time back," Hamilton said.
And if you needed an extra reason to try out the Pebble Beach app, it will even be able to send you special offers during your trip. So download the Pebble Beach app from your favorite device's app store today and start planning your next trip here!
---
Facebook Conversations