Surviving a Wet First Round: The Best From Thursday at the AT&T Pebble Beach Pro-Am
The good news? The worst is over. Players and fans battled 30 mph winds and sideways rain during the opening round of the Pebble Beach AT&T Pro-Am. Almost half the field finished, while the rest will tidy up their first round tomorrow morning at 7:30 a.m. Light rain is expected early Friday morning, before the skies clear up for a sunny weekend.
And now, here's the best from today's first round:
1. NICK FALDO JOINED THE DAN PATRICK SHOW FOR SOME EARLY MORNING NIGHT GOLF

Golf-loving Dan Patrick and the Danettes hosted their morning show live from the Pebble Beach Golf Academy, and three-time British Open Champion Nick Faldo showed them (impressively) how to control your ball in the wind.
2. IT WAS A PRETTY MORNING — UNTIL THE WEATHER TURNED TOUGH AROUND 11:30 A.M.
Good morning #ATTProAm! First round action is about to start! https://t.co/FwvlukcczA ⛳?️ pic.twitter.com/fIcUxDpHGX

— ATTPebbleBeachProAm (@attproam) February 9, 2017
Tee times were bumped up an hour to get more golf in before an expected storm, which made for a beautiful view of the sunrise for players up early on the practice range.
3. DUSTIN JOHNSON COULDN'T REACH A PAR-5 — IN 3
Dustin hit driver, 3-wood, 4-iron to the 12th at MP. Didn't get there. That ever happen on a par 5? "Never."

— Doug Ferguson (@dougferguson405) February 9, 2017
How hard was it howling? Dustin Johnson is second on the PGA TOUR in driving distance at 318.7 yards a blast. A driver, followed by a 3-wood and 4-iron finished short of the green. (That's probably 800 yards worth of club on the 599-yard hole.) The two-time AT&T winner is 1-under through 16 holes at Monterey Peninsula Country Club.
4. PHIL MICKELSON HAD A ROLLER-COASTER ROUND…
New week.
New course.
New tournament.

…

Same old Phil. ? pic.twitter.com/gNqqkOUCZ1

— PGA TOUR (@PGATOUR) February 9, 2017

Four-time AT&T winner Phil Mickelson had a very Phil Mickelson day. He rattled off four straight birdies on the front nine — including that holed-out bunker shot for birdie on the par-5 No. 6 at MPCC. But after a double-bogey on No. 13 he plummeted to 1-over, before making birdies on two of his next three holes to climb back to 1-under. Play was suspended with Mickelson on the 18th hole.
…AND ARNOLD PALMER WAS ALONG FOR THE RIDE
Phil Mickelson's bag, complete with Arnie Army's pin on the driver cover. #ATTProAm pic.twitter.com/XKG7CXT2ei

— Jeff Babineau (@GolfweekBabz) February 9, 2017
5. TO USE AN UMBRELLA, OR NOT USE AN UMBRELLA?
If you used one, you needed a caddie to tell you where to walk.
6. LARRY THE CABLE GUY TELLS YOU WHAT'S IN HIS BAG — BESIDES WATER

Of course his wedges have 'Git 'er Done' stamped on them.
7. SO, WHO'S IN THE LEAD? THE GUYS WHO TEED OFF EARLY AT SPYGLASS HILL 
.@ATTProAm scores as play was suspended:
1. Lamb, -4 (F)
1. Noh, -4 (F)
1. Dahmen, -4 (F)
4. Spieth, -3 (16)

More: https://t.co/iq8733ev7n pic.twitter.com/EvqmcPKtAw

— PGA TOUR (@PGATOUR) February 9, 2017

Rick Lamb and pro playing partner Seung-Yul Noh took advantage of soft conditions, posting matching 4-under 68s in their 7 a.m. group. Spyglass Hill is notoriously the toughest course in the rotation, but it's also the most sheltered, and early-risers Lamb and Noh combined to make nine birdies and just one bogey. Joel Dahmen teed off at 7:33 a.m. and also fired a 68, pouring in seven birdies to offset three bogeys. "We might have caught a break today being up here in the trees," Dahmen admitted.
8. DAHMEN WAS RIGHT: SPYGLASS HILL WAS THE EASIEST COURSE

Spyglass Hill was still very tough: the par-72 layout played to a stroke average of 73.236. The sixth hole has consistently been one of the toughest par-4s on the PGA TOUR, and it yielded just one birdie on Thursday. But the more exposed MPCC played 1.484 strokes over par, while Pebble Beach — the shortest course on the PGA TOUR — registered a scoring average of 74.463.
9. THE NINTH HOLE AT PEBBLE BEACH WAS IMPOSSIBLE
Not the prettiest of days but still the prettiest of views ?

Only two of 40 players managed to hit the 466-yard ninth hole in regulation, which played to a scoring average of 4.775. Drives were averaging just 243.5 yards off the tee, which meant that pros were left with 220-plus yards into the wind for their second shots.
10. WE CAN ALL RELATE TO J.J. HENRY TODAY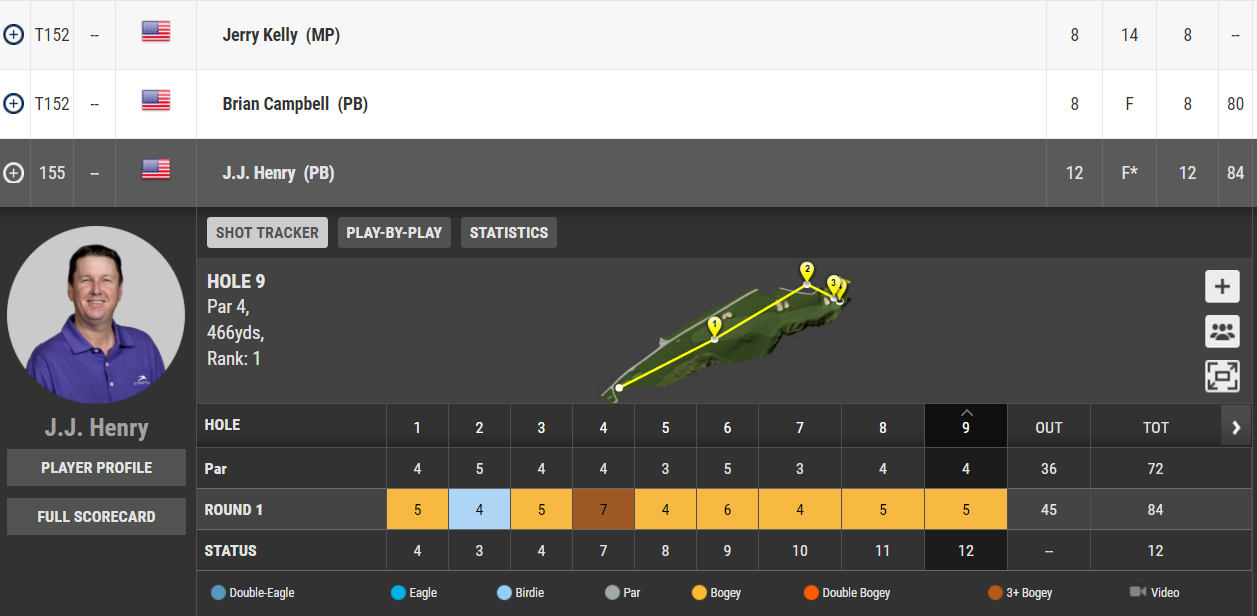 J.J. Henry is a three-time PGA TOUR winner. He played on the 2006 U.S. Ryder Cup team. But Thursday at Pebble Beach was not a fun round for him. Henry started on the back nine today and shot 3-over 39. He then posted a 9-over 45 of the front nine, making it through the rest of his round without recording a par.
---
Facebook Conversations
Surviving a Wet First Round: The Best From Thursday at the AT&T Pebble Beach Pro-Am