How good was the play in the semifinals at the U.S. Amateur? The losers shot rounds of 4-under and 2-under.
As for the winners? Viktor Hovland and Devon Bling combined to shoot 11-under, sinking 15 birdies at Pebble Beach. They'll face off in the 36-hole final on Sunday at 7:30 a.m. (The FOX broadcast will begin at 1:30 p.m.)
"Viktor's playing really well. I'm playing really well. I'm really excited to play him," previewed Bling.
Here's how the two finalists got to the brink of history:
'I'M NOT MAD AT THE WAY I PLAYED. I JUST RAN INTO A BUZZ SAW.'

In his previous two matches — both 7-and-6 wins — Hovland didn't even reach the 13th hole. But on Saturday in the semifinals with a berth to the finals, the Masters and the U.S. Open on the line, Hovland was all square, locked into a sea-saw battle with Cole Hammer.
"I hadn't played Nos. 13-15 in the last few days," said Hovland, the No. 5 amateur in the world. "But I knew I was most likely going to have to do that today."
And boy was Hovland ready. The Norwegian responded by rattling off four straight birdies to close out the match. (He birdied the 12th hole for a push to stay all square for good measure, too.)
"There's not much you can do when he makes six birdies in seven holes on the back nine," said Hammer, the 18-year-old co-medalist who played 2-under in the semifinals. "I got it back to all square a couple times, but he was just too much for me."
Both players shot even-par on the front nine to take their match to all square on the 10th tee. But then Hovland went nuts, pouring in birdies on six of his next seven holes to win, 3 and 2. Hammer collected three birdies of his own on the back nine, but even that effort couldn't push the match to the 17th hole.
"I'm not mad at the way I played, I just ran into a buzz saw," admitted Hammer, who was scheduled to move into his freshman dorm at Texas on Saturday. "I really wasn't even that close. There were a few matches where I got away with not playing great golf this summer. That was just never going to happen today. Pars were not going to win any holes."
Hovland finished with eight birdies in just 16 holes to offset Hammer's five.
"I think we fed off each other a little bit, if not on the same hole, then the next hole," said Hovland, who shot 6-under in the match.
'I PLAYED WELL TODAY. THAT'S ALL I COULD ASK FOR. BUT DEVON PLAYED AWESOME.'
Bling made so many birdies, he lost count. And yet, he was clinging to a 1-up lead on the 18th hole against Stanford's Isaiah Salinda.
"All aspects of my game were firing on all cylinders," said Bling, a sophomore at UCLA. "But it was a battle against Isaiah. He played great."
It wasn't until Bling tapped in for par on No. 18 to close out a seven birdie, 5-under 66 that he had punched his ticket to the finals — and won hard-earned berths to next year's Masters and U.S. Open.
"When I was 1- or 2-up coming down the stretch, I was thinking, 'If I close this out, I'm in to the U.S. Open and Masters,' " an excited Bling admitted.
But Salinda fought until the end. A clutch birdie from 10 feet on No. 16, followed by a must-make 5-footer for par on No. 17, pushed the match to the dramatic 18th, with Salinda needing a win to extend the match.
But Salinda couldn't get up-and-down from the left greenside bunker for birdie, allowing Bling to lag for the winning par.
"I played really well today," Salinda said. "That's all I could ask for. But Devon played awesome."
THE USGA FINDS A NEW DRIVABLE PAR-4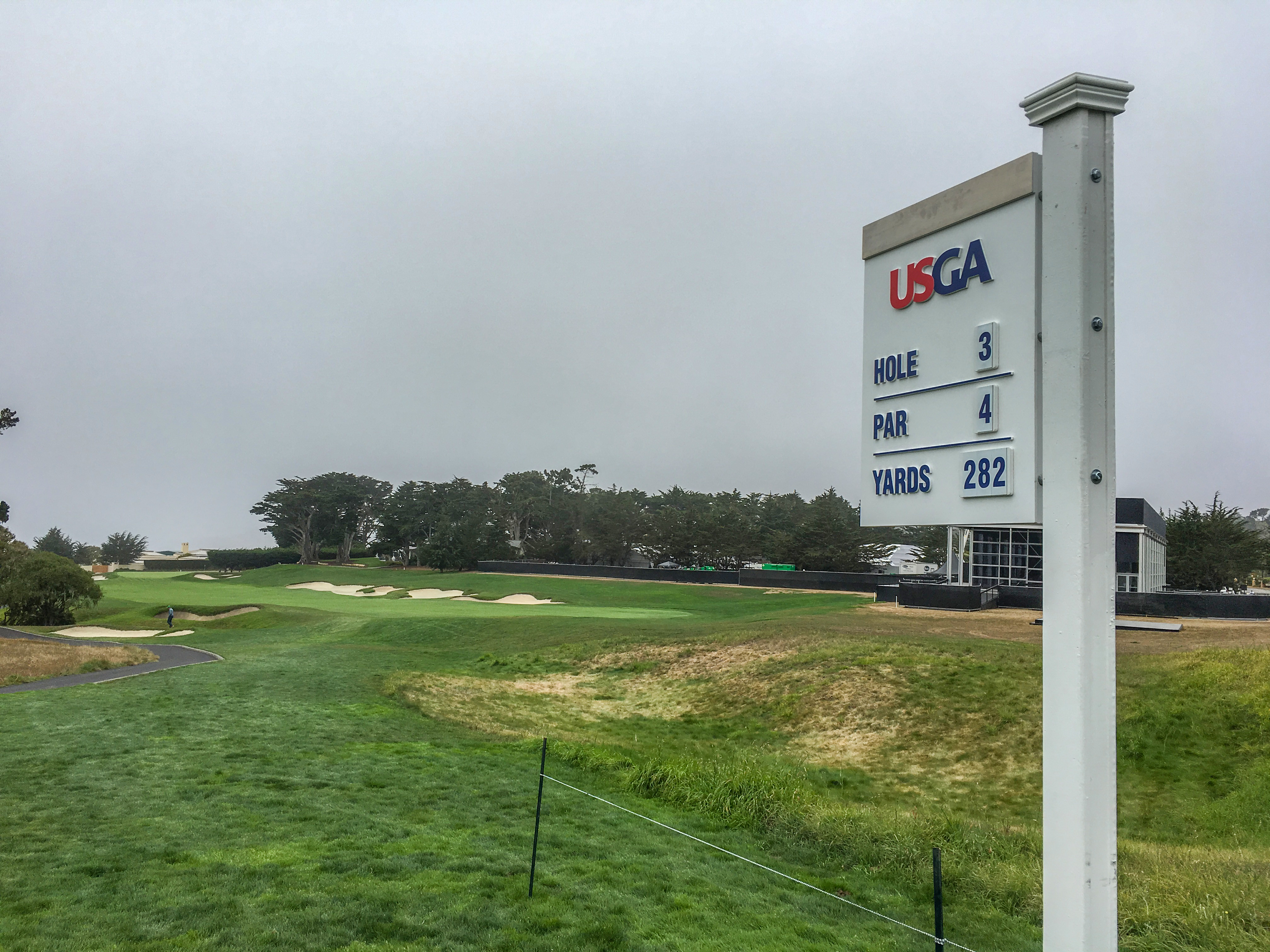 The USGA played the third hole from the red tee markers, enticing all four players in the semifinals to go for the green. Bling, Salinda and Hovland all walked away with birdies on the 282-yard par-4.
The fourth and 10th holes have also been set up as reachable par-4s at times during match play. Could we see any other wrinkles during the 36th hole final? Some ideas:
It's a semi-blind shot, but the red tees on No. 11 measure just 303 yards.
The 13th tee can be bumped up to 289 yards
The 15th hole could turn into a make-or-break tee shot late in you match, playing just 313 yards from the reds.
---
Facebook Conversations