Executive Culinary Team
Pèppoli at Pebble Beach
Angela Tamura, Chef de Cuisine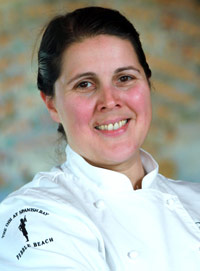 Angela Tamura is a native of New England who now calls California home. She has been cooking all her life - a requirement for a girl with an Italian mother. Angela graduated from the University of Pennsylvania before realizing in her senior year that what she really wanted to do was create good food.
As part of her education at the New England Culinary Institute in Essex, Vermont, she took two demanding internships - one at the Ritz-Carlton on Amelia Island, Florida, and one at Rialto Restaurant in Cambridge, Massachusetts. After fulfilling her school requirements, she stayed on at Rialto for another two years to continue learning from James Beard Award Winning Chef Jody Adams. From her time at Rialto, Tamura thought it would be great to see the Wine Country and learn more about Food and Wine together, so she moved to Napa and took the position of Sous Chef at Bistro Don Giovanni, eventually moving up to Chef de Cuisine.
In 2001, after taking time to get married, she joined the team at ZuZu. She stayed for a year before being coaxed away to San Mateo to become Executive Chef at Central Park Bistro, then moved back to Zuzu as Executive Chef. She has a real love of Spanish and Latin American cuisine and is starting to explore other regions of the Mediterranean such as Morocco and Greece for added inspiration.
Angela prefers to work with local farmers, ranchers and purveyors, and to change the menu every few weeks in order to keep plates fresh and seasonal. She cooks from scratch whenever possible, making pate, sausage, cheese, as well as desserts, pasta, pizza and bread. Angela won Chef of the Year at the Napa Valley Mustard Festival and twice was the featured chef at the James Beard House in New York.
Federico Rusciano, General Manager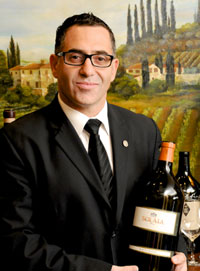 Chef Federico Rusciano was born and raised in Rome, Italy. His family has a strong background in the hotel and restaurant industry. His grandparents owned and operated a very successful boutique hotel in the famous Isle of Capri, where the jet set of Europe and the rest of the world spent summer vacations.
When he was eight years old, Federico's father opened up a beautiful restaurant in Capri, and this was where his love for the restaurant business and the culinary arts started. Along with his regular studies, Federico dedicated himself to learning the secrets of Italian cuisine. While in Italy, he had the opportunity to study with many chefs and also learned the art of baking.
After finishing high school in 1988, Federico moved to California to start college. He had the pleasure of working in the renowned Italian restaurant Café Roma in San Luis Obispo. After a while he opened up a very successful Italian bakery where he would create a great variety of artisan breads and distribute his product all over the Central Coast. In 1998 Federico met his wife, who is from Guadalajara, Jalisco, and after getting married they decided to move to Mexico.
In Mexico, Federico got acquainted with a variety of different ingredients, which stimulated his imagination and creativity. He opened a boutique restaurant and offered training to other chefs and restaurant staff from some of the best restaurants in Vallarta - "La Palapa," "Vista Grill" and "Tikul." There, he offered his knowledge combining tropical ingredients with a light flair of Asian cuisine.
Federico was offered a position as executive chef of one of Vallarta's best – the Hotel Grand Velas Resort & Spa - where he worked with culinary expert Chef Claudio Hotter from Austria. The combination of the freshness of Puerto Vallarta's seafood, along with the authenticity of Italian ingredients and the sophisticated ambience, made the dining experience at Lucca Italian Restaurant unforgettable.
In 2008 Federico and his wife returned to the United States and Federico was offered the position of executive chef at Gino Lina Bistro in San Rafael. Once the restaurant was well established, he returned to his love – large resorts - and in 2011 he started working for Pebble Beach Company as Manager of Pèppoli Restaurant.