Meetings & Event Services
Personalized service to make your vision a reality

Planning a Wedding? Contact Us
Our talented team will ensure your event is a success. We look forward to tailoring our services to your requirements, whether you need to get down to business, or are planning to kick up your heels.
Catering
A Pebble Beach Resorts experience is first-rate through and through.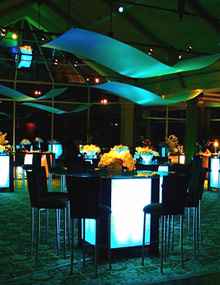 And nowhere is this more present than in our dining options. Our award-winning team of Executive Chefs offers a variety of options from fine cuisine to casual dining to catering your group's event. And with eight restaurants and a variety of private dining and banquet facilities to choose from, we can accommodate your group's dining needs no matter what you are looking for.
The Pebble Beach Resorts Catering & Conference Services team will work with you to customize exquisite menus to reflect the individual style, taste and size of your group. Please contact us for specific costs and options available for your consideration.
Event Planning
When you call to begin planning your gathering, an experienced representative from Pebble Beach Resorts will be appointed to you. They will work with you from start to finish, fine-tuning each detail, form-fitting the best venues, menus and selection of activities and ensuring your group has a perfectly tailored experience. Our experienced professional team brings the latest in high-tech tools, stylish meeting design, innovative cuisine and unmatched recreation that goes well beyond our world class golf.
Production Services
From the very simple to the amazing, our Production Services Department is ready to wow your audience with a memorable presentation of any size. Using our state-of-the-art equipment, as well as stage sets, leather executive chairs, and dynamic lighting packages, our highly experienced technical staff dedicate themselves to providing a seamless presentation for your attendees.
Floral and Event Design
Floral and Event Design is a full-service design production division within Pebble Beach Company. We are skilled in an incredible array of design elements and take as much pride in a small event with minimal design enhancements as we do large-scale events requiring complete customization. Creating the perfect enhancement pieces for your event often requires custom design and, depending on the scope of the event, we can create 3-D renderings of each custom design for your approval.