Pebble Beach Company History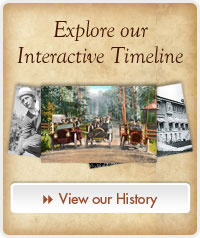 Pebble Beach Company was founded in 1919 by Samuel Finley Brown Morse, who was a distant cousin of telegraph-inventor Samuel Finley Breese Morse. Morse was a natural leader who had been captain of the national champion 1906 Yale football team and a member of the elite and secretive Skull and Bones for the class of 1907. He was introduced to the Pacific Improvement Company through a college classmate who was nephew to William H. Crocker.
Pacific Improvement Company
At the age of 29, Morse was hired to manage the Pacific Improvement Company, which had extensive real estate holdings on the Monterey Peninsula—including Hotel Del Monte. In early 1916, Morse convinced the board to build Pebble Beach Golf Links by assuring them it would help increase interest in development of the area. February 22, 1919, saw the grand opening of Pebble Beach Golf Links and the Del Monte Lodge at Pebble Beach, which replaced a log-cabin lodge originally located on 17-Mile Drive.
Del Monte Properties Company
Five days after the grand opening, Morse formed the Del Monte Properties Company and acquired the Del Monte Unit from the Pacific Improvement Company. Morse described his purchase to a friend, "The properties include 18,000 acres of land on the Monterey Peninsula, all of the Pacific Grove and Pebble Beach areas, Del Monte Forest lands (which are traversed by 17-Mile Drive), the Los Laureles Rancho (more commonly called the Del Monte Rancho), Hotel Del Monte and all improvements, Pebble Beach Lodge and all improvements, and the capital stock of the Monterey County Water Works, which supplies water to the towns of Monterey, Pacific Grove and Carmel."
The initial Board of Directors, in addition to Morse, consisted of Herbert Fleishhacker, Jack Beaumont, K. R. Kingsbury, John Barenson, Wellington Gregg, Henry T. Scott, Hugh Goodfellow, Charles W. Clark and G. M. Heckscher.
In 1948, Morse appointed his son, John Boit Morse, president of the company to inject some youthful spirit into the operation. The elder Morse continued as chairman of the board. It was during this era that the company sold Hotel Del Monte and constructed offices and a shopping arcade at The Lodge at Pebble Beach.
In 1954, Richard Osborne was appointed president. Osborne had married Samuel F. B. Morse's daughter, Mary. Under Osborne, the equestrian lifestyle was revitalized. It was also during the Osborne era that members of the Monterey Peninsula Country Club pooled their resources and bought the club from the company. Osborne also participated in the beginning of the development of Spyglass Hill Golf Course in 1963.
In November 1964, Osborne was bumped-up to vice chairman and Aime G. Michaud was added to the board and named president.
The End of an Era
On May 10, 1969, Samuel F. B. Morse died, ten years after ensuring that easements would preserve hundreds of acres of forest and coastline along the 17-Mile Drive for generations to come, and 50 years after establishing a veritable monument to the power of nature and beauty. Michaud saw getting the U.S. Open as a personal commitment to Morse's goals, and on August 27, 1969, he got the deal done.
The board elected Al Gawthrop as chairman to replace Morse and by 1970, Michaud was out. Gawthrop took on the presidency and A. Thomas Taylor became the new chairman of the board.
Pebble Beach Company
On March 30, 1977, Del Monte Properties Company reincorporated as Pebble Beach Corporation. Twentieth Century-Fox used its profits from its film Star Wars to buy Pebble Beach Corporation in May, 1979. During this era, Marvin Davis (after purchasing Twentieth Century-Fox) completed development of The Inn & Links at Spanish Bay.
Davis sold Pebble Beach Company to Japanese businessman and golf fanatic, Minuro Isutani in 1990, who would then sell to The Lone Cypress Company (formed by the Japanese Sumitomo bank and Taiheiyo Club) in March, 1992.
In the summer of 1999, Arnold Palmer, Richard Ferris, Peter Ueberroth and Clint Eastwood—along with William Perocchi and GE Pension, offered limited partnership interests with the understanding that the plan was to never again sell Pebble Beach Company to another ownership group.
Today, Pebble Beach Company retains more than 1,600 employees.