Guest Rooms & Suites
Casa Palmero
Guest Rooms
The luxurious guest rooms of Casa Palmero provide a relaxing environment designed to beguile the senses. Fresh flowers and mouth-watering breakfast baskets are delivered daily. The 24 spacious estate rooms and suites reflect the meticulous attention to detail revealed throughout Casa Palmero.
Guest rooms are elegantly appointed with comfortable furnishings, wood-burning fireplaces, LCD flat-panel televisions and oversized soaking tubs. Complimentary wireless Internet is also provided in all rooms and common space throughout The Resort. Plush towels and robes, and The Spa Collection shampoos, soaps and lotions complete your experience.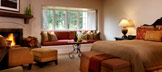 Second-floor Estate rooms feature cozy, built-in oversized window seats and airy, open wood-beamed ceilings.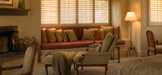 Slightly larger than the Estate rooms, each studio has its own dining area overlooking the first fairway.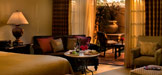 Each ground-floor spa room opens onto a private patio with its own whirlpool spa.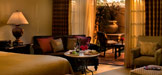 Offering a private experience with no guest rooms above, each deluxe spa room opens onto a garden patio with its own whirlpool spa.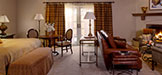 Private courtyards brimming with fresh flowers highlight these residence-style suites, each with its own outdoor whirlpool spa.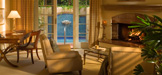 This exclusive accommodation includes a living room with fireplace, wet bar, guest powder room, oversized bath, four-poster bed, sitting area and personal outdoor courtyard complete with whirlpool spa.