Welcome Amenities & Gifts
The Lodge at Pebble Beach
Enhance your stay (831) 647-7500 Ext. 5207
From gift baskets to turndown treats, The Lodge at Pebble Beach will arrange for the perfect gift to be delivered to a guest's room. Please call (831) 647-7500 ext. 5207 for further details.
Flowers & Gifts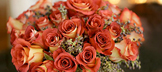 Flower Arrangements
Pebble Beach Floral is pleased to create seasonal custom arrangements for every occasion. Please call, fax, or email to place your order: Phone (831) 648-7840 or Fax (831) 657-4938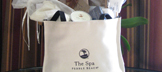 The Ultimate Spa Package
The Ultimate Spa Package comes with a travel bag equipped with bath gel, shampoo, conditioner and body lotion as well as facial mist, body butter, bath salts and a scented candle from The Spa at Pebble Beach. Nestled in a beautiful logo'd Pebble Beach tote carrying bag with an herbal scented eye pillow, bliss ball, stress relieving oil patches and a lemon-vanilla heated spa mask. The perfect relaxation gift basket.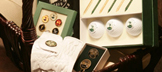 Pebble Beach Golfers Package
Basket includes Pebble Beach golf hat, sleeve of Pebble Beach golf balls, Pebble Beach bag towel, and Pebble Beach golf glove and ball marker set.
Sweet Treats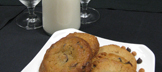 Freshly Baked Cookies with Milk
An assortment of freshly baked signature cookies from The Lodge at Pebble Beach served with a chilled carafe of milk.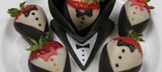 Chocolate Tuxedo Strawberries
The perfect amenity for any occasion! Six "his" and "hers" gourmet chocolate-covered tuxedo strawberries nestled in an edible tuxedo chocolate design. A fan favorite!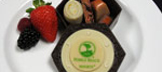 Chocolate Boxed Truffles
A beautifully done Pebble Beach edible chocolate box with six assorted truffles, garnished with fresh berries. Please inquire about pairing with champagne or wine for the complete package!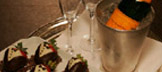 Chocolate-Dipped Strawberries
& Half-Bottle Veuve Clicquot Champagne
Pebble Beach tuxedo strawberries, dipped in white and dark chocolate, accompanied by half-bottle of Veuve Clicquot champagne.
Baskets & Platters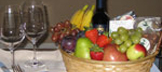 Deluxe Basket
Fresh whole fruit with chef's choice of select international cheeses paired with Carr's water crackers, smoked almonds and a half bottle of Francis Coppola Merlot.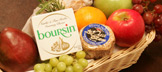 Fruit & Cheese Basket
Fresh whole fruit with chef's choice of select cheeses paired with a French baguette.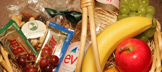 Pebble Beach Golfer's Power Package
Homemade granola from The Lodge at Pebble Beach, energy bars, trail mix and whole fresh fruits.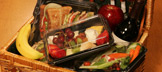 Pebble Beach Picnic Basket for Two
Have every gourmet picnic essential hand-packed and delivered in a wicker basket ready for the road. The Pebble Beach Picnic Basket includes a tablecloth, napkins, cutlery, plates and wine glasses. Two smoked turkey club sandwiches, vegetables crudités, fruit, cheese and Carr's water crackers. A bottle of Wild Horse Cabernet and two bottled waters make the meal complete.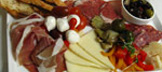 Antipasto Platter for Two
Chef's special selection of marinated roasted medley of peppers, assorted marinated olives, thinly sliced aged cheeses, mozzarella & basil salsa, sliced prosciutto, grilled and marinated portabella mushrooms, artichokes and vegetables. Served with French bread toast points and Carr's crackers.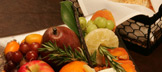 Fruit & Cheese Plate for Two
Hand-selected assortment of international cheeses served with fresh and dried fruits, Carr's Water Crackers and baguette points.

International Cheese Plate
Hand-selected assortment of international cheeses served with fresh fruit chutney and All Nature Honeycomb, Carr's water crackers and baguette points.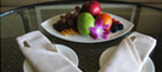 Fruit Plate
Seasonal fruit, berries and dried fruits garnished with candied almonds, lavender, rosemary sprigs and a vanilla bean.
In Celebration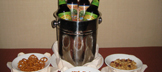 19th Hole
Enjoy a little pub in your room with four hand selected micro and imported beers accompanied by pub style mixed nuts, pretzels and Cheez Teez. Bring the 19th Hole to your room after a round of golf or have a nice welcome treat upon check-in. Cheers!
Fiesta Party for Two
Four ice-cold Coronas and sliced limes served with a bowl of mixed nuts and gourmet chips with homemade salsa and guacamole.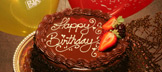 Specialty Cake & Balloons
The Bakeshop at The Lodge at Pebble Beach creates specialty cakes for every occasion. Choose from chocolate mousse or lemon-raspberry chiffon cake, frosted with butter cream, whipped cream or dark chocolate glaze. Delivered with a bouquet of helium balloons. Also available: New York style cheesecake, Key Lime pie and carrot cake.
Wines & Spirits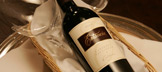 House Wines
House wines selected by The Lodge at Pebble Beach: Wild Horse Cabernet, Wild Horse Chardonnay, Mumm Cuvee Napa Sparking Wine, Wild Horse Pinot Noir and Wild Horse Merlot.
Fine Cigars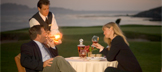 Assorted Fine Cigars
Choose from a selection of cigars including: Romeo y Julieta (Dominican Republic), Montecristo (Dominican Republic), Macanudo Baron de Rothschild, La Aurora Preferidos No. 2 Maduro (Dominican Republic), Cohiba Crystal (Dominican Republic) and Arturo Fuente Hemingway Classic (Dominican Republic).
Four Legged Friends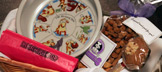 Doggy treats
Delightful treats for man's best friend; assorted Barkaroo Bakery dog treats, painted doggy dish and a pooch pick-up bag.