The Spanish Bay Tennis Pavilion
The Spanish Bay Tennis Pavilion welcomes both the serious player and the weekend enthusiast. Our tennis facility has been named the 2004 USPTA Northern California Facility of the Year and the 2002-2003 USPTA Monterey Bay Club of the Year.
Tennis Pavilion Features:
Eight plexi-paved courts with two lighted and available for night play
Private and semi-private instruction
Group clinics, tournaments and events
Full service pro-shop
Meet our Tennis Professionals
Our professional staff has decades' worth of valuable experience that can help you achieve your highest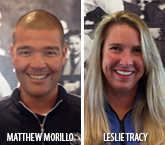 level on the tennis court. Take advantage of tennis clinics and programs.
USPTA P-1 Certified
Fila National Advisory Staff Member
Leslie Tracy, Assistant Tennis Professional
The Spanish Bay Club Pavilion Tennis Shop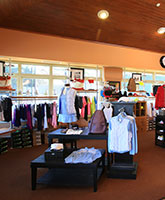 Our full-service pro shop offers a complete line of fashionable tennis wear, racquets, shoes, accessories and gift items for men, ladies and children. Many of our tennis apparel bear the Spanish Bay Bagpiper logo. One-day racquet stringing is also available.
Spanish Bay Tennis Pavilion Rates
Individual Courts: $20 per person per day. Reservations begin at 9:00 AM and run in 1.5 hour blocks until 9:00 PM
Lessons: $55 per half-hour; $90 per hour. 72-hour advance notice required.
Clinics: $40 per person per hour; 3-person minimum. Please check with Pavilion for current schedule. 72-hour advance notice requested.
Junior Program: Rates vary, daily Monday through Thursday, all year round.
Rentals:

Four high quality ball machines available for $35 per half-hour; $50 per hour (court fee included with rental)
Complimentary Rebound Wall
Racquet Rental available for $10 per day
Ball Hopper Rental available for $10 per day
Group Court Reservations, Clinics & Programs
Court Reservations: Accepted up to 3 years in advance
Group Court Fees: $80 per court per 1 ½ hour of court time starting at 9:00 AM & blocked in 1.5 hour segments. 72-hour cancellation policy.
Lessons: $90 per hour or $55 per ½ hour. Matthew Morillo, Tennis, USPTA Certified Tennis Professional.
Clinics: $40 per person per hour. Recommended ratio of 4 to 1 pro. Cover stroke production, footwork, positioning, fitness, proper warm-up, strategy, mental perspective and patterns of play.
The Spanish Bay Tennis Pavilion Member Events
The Spanish Bay Tennis Pavilion is host to a wide range of member programs and events. View the schedule for upcoming events below. For more information, contact Matthew Morillo at (831) 648-7868 or email morillom@pebblebeach.com.
March 2016
3/13 - Spring Forward into the Wine and Cheese Round Robin
May 2016
5/14-15 - Ladies Team Tennis Invitational 1
5/29 - International Team Tennis Bi-Annual
Hours of Operation
8:45 A.M. - 5:30 P.M. Monday through Friday
8:45 A.M. - 5:00 P.M. Saturday and Sunday
Call (831) 648-7868 for more information