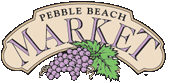 Contact
(831) 625-8528
Coffee Bar & Gourmet Deli
Pebble Beach Market
Gourmet delicacies to take with you
For a fabulous made-to-order deli sandwich, salad or dessert, stop by Pebble Beach Market, right outside The Lodge at Pebble Beach. Come in and enjoy a drink from our coffee bar, and try our delicious pastries.
Pebble Beach Market will prepare a great picnic basket you can take to your favorite bay or along with you on a tour of 17-Mile Drive. A selection of gourmet delicatessen and grocery items, including wonderful cheeses, meats and other goodies, can also be made up for in-room enjoyment.
In addition, Pebble Beach Market features one of the best wine selections on the Monterey Peninsula, more than 800 wines from around the world. Our wine specialists can help with a menu pairing or choosing a gift.
Call: (831) 625-8528