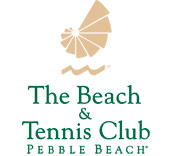 Contact
(831) 625-8507
Spectacular views
Dramatic glass wall
Creative menu
The Beach Club Dining Room
Magnificent vistas complemented by creative cuisine
The view alone is worth a visit to The Beach & Tennis Club, a short stroll from The Lodge at Pebble Beach. Drink in the stunning vistas of Stillwater Cove, Carmel Bay and the 17th fairway of Pebble Beach Golf Links through the spectacular glass wall that surrounds you.
Then, the creative menu will command your attention during your fabulous lunch at The Beach Club Dining Room. From starters to salads, from entrées to desserts, it's a cornucopia of tasty delights. Favorites include BC Fish & Chips with Anchovy Mayonnaise, Seafood Louie with Marinated Beet and Asparagus, and Dungeness Crab Cake BLT with Creamy Horseradish.
The Beach Club Dining Room is open to members and guests of Pebble Beach Resorts.
For reservations, call (831) 625-8507.
Resort attire. Serving Lunch and Sunday Brunch (11:30 a.m.-2:30 p.m., table service).
While dining at our restaurants, please present your gate receipt to your server, to have your gate fee reimbursed with a purchase of $35.