Reservations
(831) 625-8524
Contemporary dining
Fresh seafood
Spectacular views
View video showcasing the dining experience at Pebble Beach Resorts

Stillwater Bar & Grill
Featuring sustainable seafood and a magnificent view
Contemporary. Fresh. Delightful. Three adjectives that perfectly describe Stillwater Bar & Grill at The Lodge at Pebble Beach.
Stillwater Bar & Grill prides itself in offering the freshest and most flavorful in sustainable seafood and organic produce. Whether it's breakfast, lunch or dinner – or the Stillwater fabulous and famous Sunday Brunch – the menus are sure to delight and amaze. Shellfish lovers will marvel at the bountiful seafood bar and many choices of fresh oysters, clams, scallops, prawns, abalone and lobster. For those who prefer turf to surf there is the mouth-watering filet mignon and savory rack of lamb.
All of these delectable feasts are enhanced with a spectacular view of Carmel Bay and the 18th hole at Pebble Beach Golf Links.
For reservations, call (831) 625-8524.
Resort attire, please.
Serving Breakfast, Lunch, Dinner and an extensive Sunday Brunch.

Christmas Grand Buffet
December 25 – 11:00 a.m. - 6:00 p.m.
Let our world-renowned chefs prepare a sumptuous buffet of traditional holiday fare and delicious seasonal specialties for you to enjoy on Christmas Day,
all while overlooking the famed 18th hole at
Pebble Beach Golf Links.
Menu highlights include: Traditional Holiday Fare, Oyster Bar, Carving Stations, Seasonal Salads, Cheese Compositions, Cakes, Pies & Sweet Treats
View Christmas Grand Buffet Flyer
Space is limited. Make your reservations today!
(831) 625-8524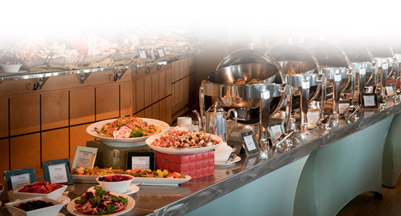 Awards & Recognition
Best of Award of Excellence
Wine Spectator • 2010, 2011, 2012, 2013, 2014, 2015
Best Buffet
The Carmel Pine Cone • 2008 Golden Pine Cones