Executive Culinary Team
Stillwater Bar & Grill
Executive Chef - Benjamin Brown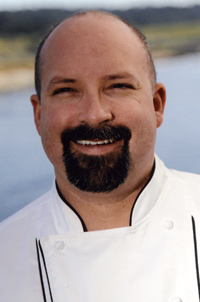 Chef Ben Brown's keen appreciation for fine food and wine can be directly traced to his Italian grandmother's favorite family recipes. Ben, peeking over grandma's shoulder, began reproducing her luscious recipes at local gatherings at the tender age of 12. As a high school student in his native Lake Tahoe, California, Ben incorporated a job in a popular local Italian restaurant into his busy teenage schedule. It was then that Ben recognized his passion and commitment to food.
After graduating from the California Culinary Academy in San Francisco, Brown returned to Lake Tahoe as the Sous Chef at Heavenly Valley's Monument Peak Restaurant. His next position was with The Marriott Corporation at Ferrantes Italian Restaurant in Monterey, California, allowing him to expand his culinary expertise. Next in line was an interesting challenge in Vail, Colorado, where he reopened the acclaimed Colorado favorite, the Fulton Iron Works. This opportunity involved working from the ground up with permits, architects, designers, decorators and health inspectors. The re-creation of this institution in the culinary world was an enormous success and Brown was eager for his next challenge.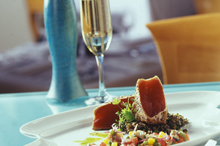 The Pebble Beach Company hired Brown as Pastry Cook in 1994. Poised to excel in a world-class resort, Brown soon became the Sous Chef in Club XIX at The Lodge at Pebble Beach. In 2002, in recognition of his accomplishments, he was promoted to Chef de Cuisine at the resort's exclusive, members only, Beach and Tennis Club. In 2007, Brown became Executive Chef at the Beach and Tennis Club and in 2008, he accepted the role as Executive Chef at The Lodge at Pebble Beach.
In Brown's words, he brings all of his experience together to keep the style and theory of his cuisine clean and true, balanced equally in contrast and texture, thus creating his own special brand of magic in the kitchen. Brown is grateful to count Huber Keller, Lisa Magadini and Bertrand Bouquin, among his mentors. He lives in Carmel with his son, Max, daughter, Lilliana and their two Labrador dogs, Charlie and Pluto.
Chef de Cuisine - Jeremy Tummel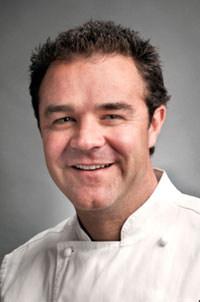 A native of Southern California, Chef Jeremy Tummel has an extensive education in the culinary industry and wide-ranging experiences in an array of cuisines over his career. His expertise in French-Asian dishes and Latin flavors, combined with his vast knowledge of wine pairings, brings yet another exciting page to the Stillwater Bar & Grill portfolio.
After teaching at the Santa Barbara City College Culinary Academy, Jeremy helped open the Bacara Resort and Spa in Santa Barbara. After serving two years as the Executive Chef, he accepted the same role in Kevin Costner's restaurant, Epiphany. Since then, he has spent time at the highly acclaimed Wine Cask Restaurant and Susan Feniger's Ciudad restaurant in Los Angeles.
Chef Tummel was recently featured at the Four Seasons Tokyo in Japan as an ambassador of Central Coast food and wine pairings. He has a strong bond with the ocean, the land and the ingredients they provide, and with proper technique, Jeremy has developed a very unique and distinguished style that embeds itself perfectly in the world-class dining across the landscape of Pebble Beach Resorts.