Caddie Services
Make the most of your golf experience
Playing any of the courses of Pebble Beach Resorts is a wonderful experience. Playing with one of our caddies is an experience that's remembered forever. Pebble Beach Resorts was designed before the age of carts and with walking in mind, so there is simply no better way to take in the beauty of Pebble Beach and the Monterey Peninsula.
What does a Caddie add to your experience?
Detailed course knowledge including accurate yardage and green reading that will
lead to better scores
Assistance with pace of play / locating errant shots
Maintenance of the course including raking bunkers, fixing ball marks, and replacing divots
An opportunity to play the courses like the pros do
What to expect
Pebble Beach Golf Links, Spyglass Hill Golf Course, The Links at Spanish Bay and Del Monte Golf Course all offer caddie service; the fees are the same at all courses. Each caddie usually carries 2 bags; however single bags will be carried should your group have an odd number of guests wanting to walk. Forecaddie service is available for either three or four players.
Caddie Rates (paid during check-in prior to round)
$80 for a single bag carrying caddie
$160 for a double bag carrying caddie
$160 for a forecaddie for four golfers, or $120 for a forecaddie for three golfers
Recommended Average Gratuities
(Gratuities can be higher or lower than the average and should be based on the level of service provided by the caddie)
Double Caddie - $25 to $50 per bag
Single Caddie - $35 to $55 per bag
Forecaddie - $30 per bag
To enjoy the full Pebble Beach Resorts golf experience, call Caddie Services reservations at (831) 622-6162. Guests are also welcome to make any caddie requests with their reservationist while booking tee times.
The Pebble Beach Resorts Caddie
An expert in the challenges and obstacles of the course. Able to offer insights into improving your game. And, ready with moral support when your shot doesn't go as planned. These are the traits of a Pebble Beach Resorts Caddie.
Our Caddies provide course knowledge, understanding of the game and great stories of events, people and traditions—after all, they are a part of a proud tradition themselves.
Pebble Beach Resorts Caddie Program has been in place continuously since 1919
195 caddies are in the program
50 of our caddies have more than 10 years' experience at Pebble Beach Resorts
Meet Casey Boyns, recently elected into the California Golf Writer's Hall of Fame!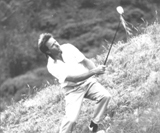 The next time you play a round at Pebble Beach Resorts, your caddie might be a member of the California Golf Hall of Fame. Congratulations Casey Boyns!
Embodied in Casey Boyns, pictured here, is one of the most accomplished amateur players in the United States and one of the best caddies at Pebble Beach.
Former California State Amateur Champion
Caddie for 30 years at Pebble Beach Golf Links
Caddied in over 30 Crosby National/AT&T Pebble Beach National Pro-Ams; played in two
Inducted into California Golf Hall of Fame on February 10, 2010