Frequently Asked Questions
Anticipating your needs
To help make your visit to The Spa as relaxing as possible, we have anticipated the following questions.
Where do I check in for my appointments at The Spa?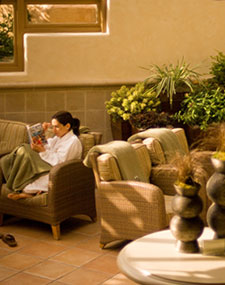 Please check in at The Spa front desk. You will be escorted to the locker room where you can enjoy steam, sauna and inhalation rooms before your treatment. For spa services at The Spanish Bay Club, please check in at their fitness desk.
How early should I arrive for my appointment at The Spa?
Please arrive a minimum of 20 minutes before your appointment. To enjoy The Spa facilities prior, we suggest arriving at least 45 minutes before your appointment.
What if I am running late?
Please note that your late arrival will impact the length of your treatment. Your service will end on time so that the next guest is not delayed.
May I cancel at any time?
If you need to cancel your appointment completely, please call at least 24 hours prior to the appointment. If it is within 24 hours, we charge 50% of the service price. A "no show" appointment is charged at the full service rate.
What do I need to bring?
Bathing suits are required for Water Experience and the Signature Shower. When you check in, you will receive towels, slippers, a robe and a locker for your personal belongings. Please do not bring valuables to The Spa. For your convenience, safety deposit boxes are available at The Spa front desk.
Do I disrobe entirely for my spa treatment?
That is your choice; however, it is customary to do so. Our staff is required to appropriately drape you with towels or sheets at all times during the service to protect your privacy.
May I ask my therapist to make adjustments for my comfort?
Absolutely. This is your treatment and we want you to enjoy the experience. If you would like the room temperature adjusted or a change in the amount of pressure during your massage, please let your therapist know.
Should I alert someone if I have any physical ailments or allergies?
Yes. Please notify our reservation agent when scheduling your service at The Spa. If you require special assistance, please let us know so that we may ensure you have a pleasant experience.
For Spa reservations, please call (831) 649-7615 or .