Hair & Nail Services
Renew and revive your style
Hair Care
The stylists at The Spa at Pebble Beach will help you look and feel your best with products and techniques that highlight your individual style.
Cut and Style

from $85

Men's Haircut

from $45

Formal Event Style

from $125

Shampoo & Blow Dry

Short hair from $55, Long hair from $75

Full Color

from $125

Partial Highlight

from $180

Color Touch Up

from $105

Full Highlight

from $215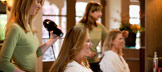 Hair and Scalp Rejuvenator
65 minutes $125
Restore balance and renew body and shine with our deep-conditioning treatment recommended for all hair types. Includes styling and blow dry.
Nail Care
Nail Care at The Spa at Pebble Beach will leave you feeling pampered from head to toe. Every manicure and pedicure includes soaking of hands or feet, nail shaping, cuticle care, moisturization and buffing or polish.
Express Manicure

25 minutes $40

Spa Manicure

50 minutes $65

Express Pedicure

25 minutes $50

Spa Pedicure

50 minutes $85

Shellac Manicure

80 minutes $85

Shellac Pedicure

50 minutes $105

Lavender Pedicure
80 minutes $135
Transport yourself to the garden with the sweet scent of lavender, an herb used for centuries to refresh and cleanse. Our pedicure applies this time-tested herb to gently remove dry skin, and includes a lavender-olive oil balm to hydrate and nourish the skin, followed by perfect polish.
Smooth as Silk Pedicure
80 minutes $135
An anti-callous treatment helps smooth rough skin, and moisturizing cream and shea butter treatment leave your feet smooth as silk.
Sports Pedicure (for men)
50 minutes $85
Enjoy an ice-cold beer while your feet are buffed and scrubbed to perfection. After sports or a hard day at the office, your feet will thank you.
For Spa reservations, please call (831) 649-7615 or .
*Note: Please advise at the time of booking if you already have shellac or gel on your nails as it will need to be removed during treatment.