The Lodge at Pebble Beach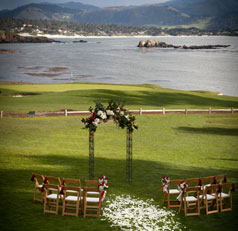 Celebrate your wedding in a refined atmosphere of classic elegance, glamour and romance, and say, "I do" on the legendary 18th Lawn at The Lodge at Pebble Beach. Since 1919, The Lodge has hosted a myriad of beautiful weddings, both grand and intimate, in a truly inspired setting. With superb amenities and exemplary service—and views of Carmel Beach and Point Lobos as the stunning backdrop—weddings here are as dazzling as they are sophisticated…and unforgettable.
Fairway One - The Newest Addition to Pebble Beach Resorts
Opening in 2017, Fairway One is a distinctive addition to The Lodge at Pebble Beach. Created in an exclusive setting, Fairway One delivers on the history, tradition, natural beauty, unrivaled golf and world-class service that define Pebble Beach Resorts. Fairway One will be a truly spectacular place to host the wedding of your dreams. Find Out More
Wedding Ceremony & Reception Venues at The Lodge
"WOW! That room at the Lodge! It was unbelievably gorgeous and more than we could have ever dreamed."
"For my clients, hosting an event at Pebble Beach Resorts is not just an experience, it's an incredible journey."
Host Your Perfect Wedding at
the lodge at pebble beach