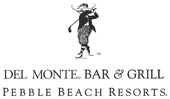 Reservations
(831) 373-2700
Relaxed dining
Resort attire
Del Monte Bar & Grill
Sociable clubhouse restaurant
Don't let the locals know we told you—the Del Monte Bar & Grill is one of the best-kept secrets for a fabulous breakfast or lunch in Monterey.
As the clubhouse restaurant for Del Monte Golf Course near downtown Monterey, Del Monte Bar & Grill features relaxed indoor and outdoor patio dining overlooking the course.
The grill offers generous meals and a full sit-down bar with televised sporting events. The Del Monte burger is a local favorite, served with a mound of crispy fries. For lighter appetites, try the tasty chicken Caesar salad.
For reservations, call (831) 373-2700. Resort attire, please.
Serving Breakfast and Lunch.
While dining at our restaurants, please present your gate receipt to your server, to have your gate fee reimbursed with a purchase of $35.