Spinach Ricotta Gnocchi with Italian Cherry Tomatoes
Ingredients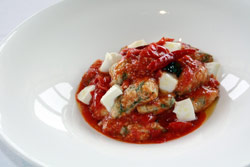 Gnocchi
1 lb. good quality ricotta, drained
1/4 C. grated parmesan cheese
5 oz. baby spinach, sautéed with olive oil and chopped garlic
4 oz. Italian "00" flour plus more for dusting
2 egg yolks
Salt, pepper and nutmeg
Sauce
1/2 can (16 oz.) canned Italian cherry tomatoes, peeled
2 cloves garlic, peeled and crushed with the side of the knife
2 ea. dried arbol chiles
2 oz. extra virgin olive oil
1 ea. bufala mozzarella
1/4 bu. basil, torn
Procedure
Bring a large pot of salted water to a simmer and keep it standing by.
To make the gnocchi:
Chop the cold, cooked spinach. Whip the ricotta in the bowl of a mixer with the wire whisk until smooth. Add the cheese, spinach, eggs, salt, pepper and nutmeg. Remove the mixture from the machine and place it on a flat work surface that has been dusted with flour. Incorporate the 4 oz of flour by turning the dough gently with your hand and a bench scraper. (If you do not have a bench scraper use your hands completely- it will just be a little messier) Roll just a little bit of dough with a touch more flour and test a piece in your simmering water.
Put a little more flour in front of you on the counter and roll the dough into a long snake, about an inch in diameter. Cut the gnocchi into diamonds.
Lay the finished gnocchi onto a sheet tray that has been dusted with a little bit of semolina. Allow to chill in the refrigerator for at least one hour.
For the sauce:
In a large sauté pan, heat the oil with the crushed garlic and arbol chile. Remove the garlic once it has turned a golden brown and add the tomato. Allow the tomato to simmer to a sauce like consistency and turn the heat off.
Cook the gnocchi in the water. They are somewhat delicate so do not allow the water to come to a rolling boil.
Remove the gnocchi from the water and put them into the sauce. Add the cubed bufala mozzarella and basil and toss once. Plate into bowls and enjoy.

Print recipe