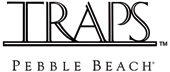 Cozy fireside lounge
Appetizers & late-night supper
Extraordinary beverage list
View video showcasing the dining experience at Pebble Beach Resorts
Traps
A cozy fireside lounge
The cozy fireside lounge and bar of Traps at The Inn features lively conversation, televised sporting events and hearty appetizers. Sip a fine wine or choose among cocktails, handcrafted beers, single-malt scotches and cognacs while you take in the panoramic views of the sun setting over the Pacific Ocean.
If you arrive hungry, try the Plump Shrimp, Lean Prosciutto with Melon, Fried Calamari and Artichokes, Carpaccio or a wonderful cheese plate. A late-night supper menu is also offered.
Resort attire, please.
Bar menu for Dinner and Late-night Supper.
While dining at our restaurants, please present your gate receipt to your server, to have your gate fee reimbursed with a purchase of $35.