Thai Snapper with Potato Squash & Reggiano Parmesan "Risotto" with Roasted Red Bell Pepper Coulis & Chive Oil
Ingredients
Red Pepper Coulis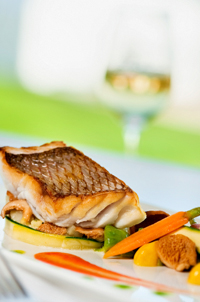 1 medium red bell pepper (roasted)
1 oz. yellow onion
1 tsp. champagne vinegar
1 tsp. agave syrup
1 tsp. California extra virgin olive oil
1 tsp. fresh oregano
1 tsp. fresh thyme
1 pinch kosher salt
1 pinch fresh ground white pepper
Chive Oil
1 qt. of a bunch of fresh chives
1 oz. California extra virgin olive oil
1 pinch kosher salt
Potato Squash & Reggiano Parmesan "Risotto"
1/2 oz. chopped shallots
4 oz. yellow squash, finely diced
4 oz. zucchini, finely diced
½ of a medium russet potato, finely diced
1 oz. California extra virgin olive oil
2 oz. heavy cream
2 oz. chicken stock
2 oz. grated parmesan cheese
2 oz. fresh chanterelle mushrooms
Salt and ground white pepper to taste
Thai Snapper
8 oz. fresh Thai Snapper (skin on, scales off, bones removed)
2 oz. California extra virgin olive oil
Salt and ground white pepper to season fish
Method
For the Red Pepper Coulis
Begin by rubbing extra virgin olive oil on bell pepper then roast the bell pepper on a high flame, rotating bell pepper as it roasts, then place in a plastic bag, close then let cool for approximately 3 minutes then peel. Remove seeds and stem, place in a blender then add 1 oz. of yellow onion, champagne vinegar, agave syrup, fresh oregano and thyme, extra virgin olive oil, and then blend at a high speed for approx 2 minutes, then season with kosher salt and fresh ground pepper to taste and set aside until served.
For the Chive Oil
In a blender, add fresh chives, 1 oz. extra virgin olive oil and a pinch of kosher salt, then blend at a high speed for approximately 3 minutes. Strain and set aside in a squeeze bottle.
For the Risotto
In a medium saucepan, start by sautéing the potato in 1 oz. of organic extra virgin olive oil until translucent (approx 2 minutes). Then add the 2 oz. of fresh chanterelle mushrooms and shallots, cook for approximately 1 minute, add the 2 oz. of heavy cream and chicken stock, let it cook for approx 3 minutes until al dente. Then add the 2 oz. of grated parmesan cheese, zucchini and yellow squash, cook for approximately 1 more minute, then season with salt and & fresh ground white pepper to taste – set aside.
For the Thai Snapper
In a sauté pan on medium heat add 2 oz. extra virgin olive oil, then wait until hot. Add the Thai Snapper skin down for approximately 4 minutes or until golden brown, flip over then cook for approximately 2 more minutes depending on thickness of fish. Then serve with squash & potato "risotto," red pepper coulis, chive oil and a side of your favorite vegetables.

Print recipe