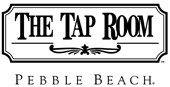 Reservations
(831) 625-8535
All-American fare
World-class steakhouse
Comfortable & inviting
View video showcasing the dining experience at Pebble Beach Resorts
The Tap Room
at Pebble Beach
Renowned steakhouse with vintage wines and spirits
After 18 holes, you're bound to have a hearty appetite. Satisfy it in the warm tavern atmosphere of The Tap Room at The Lodge at Pebble Beach.
The Tap Room is a wonderful watering hole with a great selection of draft and bottled beers, vintage wines and top quality spirits. It's also a world-class steak house serving up hearty All-American fare, from burgers to prime rib to filet mignon. The Tap Room serves only the finest, hand-selected prime and certified Angus beef, grilled to perfection in a high intensity Montague broiler and topped with our famous ale butter.
Renowned for its extensive collection of prized golf memorabilia, The Tap Room is a comfortable and inviting place for watching televised sporting events or recounting your successes on the course.
For reservations, call (831) 625-8535. Resort attire is welcome.
Serving Lunch, Dinner and Late-Night Supper.
While dining at our restaurants, please present your gate receipt to your server, to have your gate fee reimbursed with a purchase of $35.
Awards & Recognition
Best Golf Pubs
Golf Digest Editor's Choice • 2016
America's Best 19th Holes
LINKS Magazine • 2012
Travelin' Joe's Best 19th Holes
Golf Digest • 2011
"Enjoyed a couple of beers and a couple of those magnificent burgers at The Tap Room"
Turk Pipkin "Miracle at Pebble Beach" • Robb Report • January, 2006