AT&T Pebble Beach National Pro-Am
February 9-15, 2015 • A Pebble Beach Tradition Since 1947
The AT&T Pebble Beach National Pro-Am is a 72-hole PGA TOUR golf championship dating back to the 1930s when Bing Crosby gathered a 'few friends' to raise money for charity...and have a little fun.
Top TOUR professionals team with Hollywood celebrities, world renowned musicians and the captains of industry as they compete for a $6.6 million purse. Foursomes rotate to MPCC Shore Course, Spyglass Hill Golf Course and Pebble Beach Golf Links Thursday through Saturday. The infamous 'cut' is made on Saturday night and the leading 60 professionals and 25 pro-am teams play Pebble Beach Golf Links on Sunday for the championship. Join us for a great week of golf February 9-15, 2015.
Official Tournament Information
Visit www.attpbgolf.com for official Tournament information and tickets.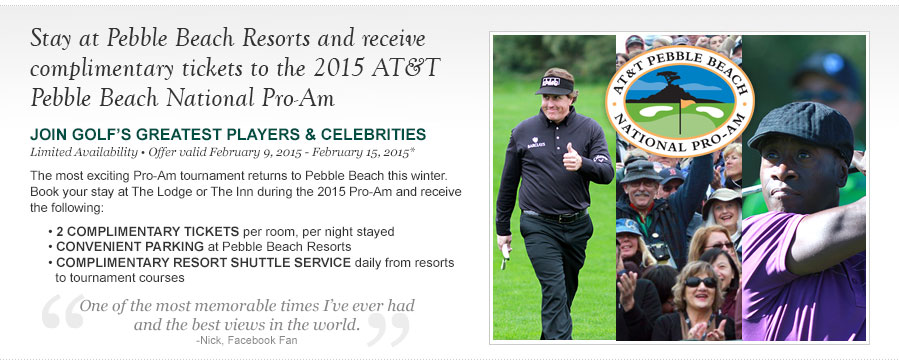 Call Resort Reservations at for details
* Offer is subject to availability. Minimum stay is required; call Resort Reservations at for details. Offer may not be used in conjunction with any other offers or packages. Valid for new bookings only and parties of 8 or fewer rooms. Pebble Beach Company reserves the right to modify or discontinue this offer at any time.
2014 Tournament Highlights


2013, 2012 & 2011 Tournament Highlights
View photos, videos and insider stories from the 2013, 2012 and 2011 AT&T Pebble Beach National Pro-Am events.