The Moments That Won Each U.S. Open at Pebble Beach
Sometimes, it's the stuff dreams are made of:
You're tied for the lead at the U.S. Open with two holes to go, and you chip in for birdie to beat the greatest player of all time.
Other times? The announcers are predicting a record victory five holes into the championship.
Here are the moments that have won the six U.S. Opens played at Pebble Beach:
1972 U.S. Open – Nicklaus Knocks His 1-Iron Stiff
The scoring average during the final round was a staggering 78.8 — the highest since World War II. Nicklaus led wire-to-wire, but in howling conditions that dried out the greens, his three-shot lead wasn't secure until he hit one of the most famous shots in golf — a 1-iron on No. 17 that short-hopped the flagstick for a tap-in birdie.
"The shot I performed, I don't think I could ever do again," remembers Nicklaus, who finished at 2-over after a closing 74. "I had a shot where the wind was howling from left to right and into my face. I didn't know if I could get it there or not. I laced a 1-iron and I was quite content to be in the front bunker."
1982 U.S. Open – Watson Nips Nicklaus with Iconic Chip Shot
Tom Watson was tied for the final-round lead with Nicklaus as he stood over a chip shot on No. 17 in wiry fescue rough. Caddie Bruce Edwards encouraged Watson to get it close. Watson fired back, "I'm going to sink it." Watson did, and burst into an impromptu victory lap around the green.
With Nicklaus already in the clubhouse, Watson only needed a par to clinch victory. But for good measure, Watson poured in a 20-foot birdie to win by two. "You're something else," Nicklaus told Watson behind the 18th green. "I'm really proud of you."
It was Watson's first U.S. Open title, robbing Nicklaus of a record fifth victory.
1992 U.S. Open – Kite Crushes Colin's Hopes with Chip-In at No. 7
As 40-mph winds harassed the leaders, Nicklaus went so far as to coronate Colin Montgomerie the U.S. Open champion on the broadcast. Montgomerie had just posted the clubhouse lead at even-par, a seemingly safe number with the leaders still playing the front nine.
But as Montgomerie watched from the television booth, Tom Kite sank a wind-bent pitch at No. 7 for birdie. And Montgomerie's head-holding reaction said it all. There were still many more dangerous holes remaining, but that shot symbolized the improbably great play Kite mustered up to shoot an even-par 72 and win his first Major title. Kite's steady play gave him a four-shot lead with four holes to go, and he held on for a two-stroke windy win over to capture his first Major.
2000 U.S. Open — Woods Wins Before He Steps on the 1st Tee
It's amazing to read quotes about Tiger Woods from his practice rounds that week.
Said playing partner Paul Goydos, "We got done with the practice round and there were reporters there, and they tried to talk to Tiger. One asked me what I was thinking, and I said, 'This tournament is over. He's going to win by 10 shots.' And they scoffed at me. And I was wrong. He won by 15. I remember walking away knowing there was nothing I could do to do what he was doing."
NBC golf analyst Johnny Miller picked up a similar vibe:
"I could just feel Tiger's aura when I saw him on Wednesday before the U.S. Open Championship. I could just feel that he was in a spot almost nobody as a player ever gets in, mentally, physically, dead in his prime. He played five holes and Dan Hicks said, 'What do you think of Tiger?' I said, 'I think he's going to win by a record score and just run away with this thing.' And he looked at me like, we just started the U.S. Open, how can you say that? I was like, 'I don't know, that's just the way I feel.' "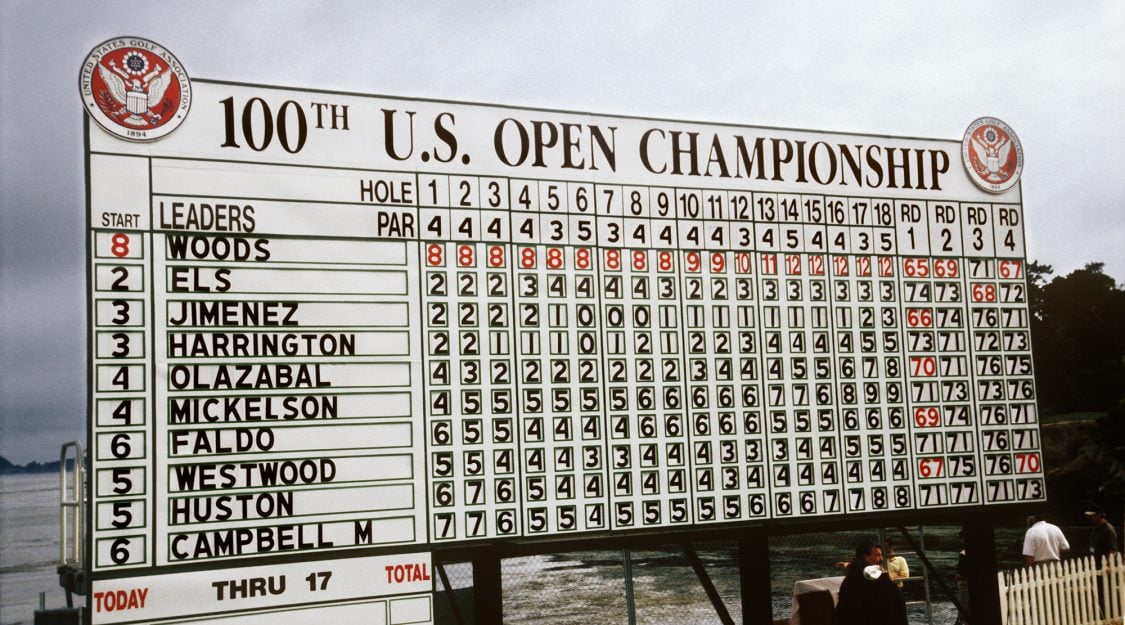 "
I could just feel that he was in a spot almost nobody as a player ever gets in, mentally, physically, dead in his prime.
"
If there was a moment where the championship could have gone sideways, it was on the third hole of the third round, when Woods picked up a triple-bogey. After all, Gil Morgan tumbled from 12-under to 5-over in the final 29 holes of the 1992 U.S. Open.
But by the seventh hole, Woods was already back to even-par for the day. And by the end of the third round, Woods had pushed his lead from six shots to 10. Woods ultimately went on to win by a Major championship record 15 shots.
2010 U.S. Open — Johnson's Traumatic Triple-Bogey Opens Door for McDowell
Graeme McDowell could not have imagined that if he shot a 3-over 74 in the final round, he'd win the U.S. Open. He began Sunday three strokes back of Dustin Johnson, with Hall-of-Famers Tiger Woods, Phil Mickelson and Ernie Els all in the mix.
But then Johnson made a triple-bogey on his second hole, shaking up the leaderboard like a snow globe.
"I think there were a number of guys that thought as soon as Dustin made a triple, it was a wide-open tournament," said Mickelson, who was even-par for the championship heading into the back nine, but came home in 3-over. "Many guys had a chance. And it made for an exciting U.S. Open."
Surprisingly, no charges materialized on the back nine, and McDowell only needed a textbook par on No. 18 to edge Gregory Havret by one stroke. McDowell two-putted from 30 feet to clinch his first Major.
"I really tried to just go out there and par the place to death," said McDowell, who only made two birdies in his final 34 holes to finish the championship at even-par.
2019 U.S. Open – Woodland Wacks 3-Wood on No. 14 to Separate from Koepka
Brooks Koepka, golf's Major championship terminator, was zeroing in on leader Gary Woodland. Koepka, winner of the last two U.S. Opens and four of his last eight Majors, had whittled a four-shot deficit down to one as Woodland played the 14th hole.
After his tee shot on the perilous par-5 left him with 263 yards to get home, Woodland smashed the shot of his life, carrying the gaping bunker in front of the green and somehow stopping his ball just past hole-high – no easy feat with a lob wedge, let alone a 3-wood. Woodland got up and down from 16 feet to clean up his birdie and double his lead.
"To execute that shot under pressure, in that situation, it gave me the confidence I needed," Woodland reflected. "I felt better after hitting that shot than I had in a long, long time."
While that 3-wood changed the shape of Sunday, Woodland also delivered fireworks on the final two holes, nearly chipping in from the other side of the 17th green to salvage par, before burying a 30-footer for birdie at the last to win by three.