Course History
Spyglass Hill Golf Course
A Fabled History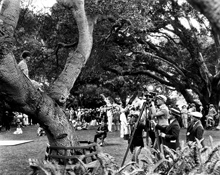 Samuel F. B. Morse had a passion for local history and was intrigued by the legend that Robert Louis Stevenson roamed the hills and sandy dunes of Pebble Beach for inspiration while writing his classic, Treasure Island. Once Spyglass Hill Golf Course was named, the theme served as a perfect muse for the challenging course.
Spyglass Hill Golf Course officially opened March 11, 1966. The course was less than a year old when it became part of the Crosby rotation and Spyglass Hill Golf Course became loved for its challenge and scenic beauty. It has ranked among the Top 100 courses in America and the world for more than 40 years.
Championships at Spyglass Hill Golf Course
In addition to co-hosting the Crosby (now the AT&T Pebble Beach Pro-Am), Spyglass Hill Golf Course was immediately pegged for NCGA championships and medal play in the California Amateur.
| | Winner | Years |
| --- | --- | --- |
| Crosby National Pro-Am | Multiple winners | 1967-1976, 1978-1985 |
| Trans-Mississippi Championship | Allen Miller | 1971 |
| Spalding Invitational | Multiple winners | 1979-1980, 1990 |
| AT&T Pebble Beach National Pro-Am(1) | Multiple winners | 1986-still |
| Ben Hogan Invitational(2) | Loren Roberts | 1991 (1992) |
| Pebble Beach Invitational(2) | Multiple winners | 1992-1996 |
| TaylorMade Pebble Beach Invitational(2) | Multiple winners | 1997-still |
| U.S. Amateur Championship (Medal play) | David Gossett | 1999 |
| California State Amateur Championship | Multiple winners | multiple years |
1 Continuation of the renamed Crosby National Pro-Am
2 Continuation of the renamed Spalding Invitational