Gentlemen's Favorites
Improve your game and your outlook
With a focus on improving your golf game—or helping you recover from a weekend of golf on the links—The Spa at
Pebble Beach offers several treatments with men in mind.
Pre-Golf Warm-Up

25 minutes $90
50 minutes $175

Specially designed golf stretches and soft-tissue releases give you an edge on the course. Wear comfortable shoes.

Post-Golf Therapy

50 minutes $175

This perfect ending to a round assists in recovery by focusing on tired forearms, neck, lower back and hips. Especially beneficial if you plan to play the next day.

Sports Bodywork

80 minutes $260

This deep-tissue massage realigns and stretches muscles, works out knots and improves range of motion with therapeutic techniques, isolated stretching and deep, firm pressure.
Sports Pedicure
50 minutes $85
Enjoy an ice-cold beer while your feet are buffed and scrubbed to perfection. After sports or a hard day at the office, your feet will thank you.
Golfer's Foot Renewal
25 minutes $90
Enjoy a massage of the feet and lower legs. Add this relaxing treatment to any massage.
Acupuncture
80 minutes $270
Many golfers are using acupuncture as a way to relieve back and shoulder pain and improve their game. Treatment also strengthens the immune system, reduces stress and helps to bring the body back to balance.
Herbal Compress Massage
75 minutes $270
This therapeutic massage incorporates steamed herbal compresses of wild-crafted arnica, eucalyptus and rosemary, hands-on massage and Thai stretching techniques. The combination of heat and pressure melt away muscle tension.
Men's Facial
50 minutes $175, 80 minutes $260
This facial hydrates and purifies the skin. Alleviate stress and tension as you receive a mini-massage of the neck, face and hands.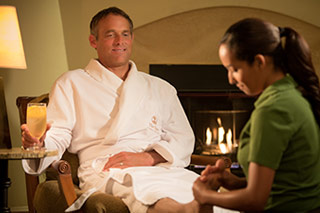 Sea-Salt Body Scrub
45 minutes $175
Our most invigorating scrub is ideal for both men and women. Mineral-rich sea salts combine with oil to deeply cleanse, exfoliate and soften the skin.
Golfer's Hole in One Package
2 hours $345
For tired, tense muscles, enjoy an 80-minute Sports Bodywork Massage and a 25-minute Golfer's Foot Renewal.
For Spa reservations, please call (831) 649-7615 or .