Massages
Ease your tension away
The Spa at Pebble Beach features a selection of invigorating and relaxing massages, from classic to golf-specific therapies using custom blended oils.
Spa Massages
50 minutes $175, 80 minutes $260, 105 minutes $315
In-Room Massages
50 minutes $260, 80 minutes $315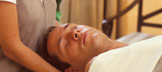 Classic Massage
Customized for your needs, this swedish massage increases circulation and relaxes tight, tense muscles.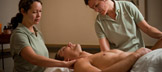 Therapeutic Massage
This massage uses deeper pressure and slow strokes to help alleviate chronic muscle tension.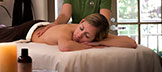 Lymphatic Massage
This gentle technique can help reduce fluid retention, enhance the removal of toxins from the body tissues, regulate digestion and support the immune system.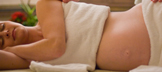 Maternity Massage
Our therapists ease the effects of your growing body on our specially designed maternity pillows. A soothing combination of essential oils provides serenity.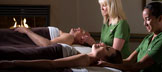 Couples Massage
50 minutes $350, 80 minutes $520
Perfect for couples or friends who want to enjoy the benefits of massage together.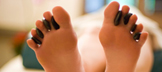 Scalp, Hands and Feet Massage
A deeply relaxing and blissful treatment that reduces stress by energizing circulation and stimulating energy flow through the many nerve endings in your scalp, hands and feet.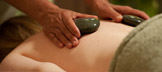 The Pebble Massage
70 minutes $260
Our Signature Massage incorporates tension-releasing LaStone massage techniques with warm sculpted stones.
Targeted Massage with Back Revitalizer
80 minutes $270
Focusing primarily on the back muscles to bring deep relaxation and comfort, this massage includes a self-heating mud pack to relieve strain and built-up tension.
Pair with any 50 minute service and receive the Women's Water Experience for $30.
Fore the Golfer
Pre-Golf Warm-up

25 minutes $90
50 minutes $175

Specially designed golf stretches and soft-tissue releases give you an edge on the course. Wear comfortable clothes.

Post-Golf Therapy

50 minutes $175

This perfect ending to a round assists in recovery by focusing on tired forearms, neck, lower back and hips. Especially beneficial if you plan to play the next day.

Sports Bodywork

80 minutes $260

A form of deep-tissue massage, sports bodywork realigns and stretches muscles, helps work out knots and improves range of motion.
Eastern Origins

Herbal Compress Massage
75 minutes $270
This therapeutic massage incorporates steamed herbal compresses of wild-crafted arnica, eucalyptus and rosemary, hands-on massage and Thai stretching techniques. The combination of heat and pressure melt away muscle tension. This massage is excluded from in-room appointments.
Energy Balancing
Acupuncture
80 minutes $270
Acupuncture redirects energy from areas of blockage or pain to bring the flow of energy back into balance. Treatment can relieve pain, strengthen the immune system, reduce stress and bring balance and integration.
Cranio-Sacral Therapy
50 minutes $175
A subtle, yet powerful session encourages the body to release stress. This gentle hands-on technique offers deep relaxation to the brain and central nervous system, melting tensions and restoring balance.
Chakra Balancing
75 minutes $270
Chakras are energy centers that affect our immune and endocrine systems; negative information can adversely affect the body and spirit. This energy balancing treatment uses gemstones to help clear the chakras, calm the mind and improve your body's ability to self heal.
Shiatsu, Reiki, Reflexology, Thai, Four Hands Massage
Available upon request.
For Spa reservations, please call (831) 649-7615 or .