Congratulations Graeme McDowell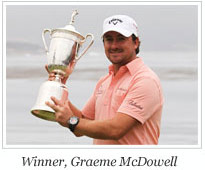 The 2010 U.S. Open Champion
Congratulations to Graeme McDowell, the 2010 U.S. Open Champion. It was an amazing week and quite a celebration at Pebble Beach Resorts. We'd like to thank all the volunteers, spectators, fans and guests for their ongoing support and help. We are excited to continue the celebration in 2019, when the U.S. Open Championship returns to Pebble Beach for the sixth time!
Experience Pebble Beach Golf Links, the course of the 2010 U.S. Open. Check availability online or call Resort Reservations at to book your tee time.

"Best U.S. Open setup ever...can't wait to come back and play Pebble again...my favorite course."
– Drew, Facebook Fan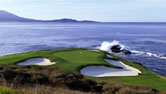 PLAY THE COURSE OF THE 2010 & 2019 U.S. OPEN
It's your turn to play where the pros play. Create your own championship moments and lifelong memories. Experience Pebble Beach Golf Links, the course of the 2010 U.S. Open!
Check availability online or call to book your stay.
Learn more
We're on Facebook
Join the conversation, view photos and more!
Find us on Facebook
Media Contact
Katie Denbo
Phone: (831) 625-8557
Email Katie
PHOTOS

View photos from the 2010 U.S. Open Championship. Or, see even more event highlights with our extensive Facebook photo album.

VIDEOS

INSIDER STORIES

McDowell Lives Out His Dream With U.S. Open Win View Story

As a boy growing up along the rugged Portrush peninsula in Northern Ireland, Graeme McDowell would fantasize that he had two putts to win the U.S. Open Championship. He has now lived out that dream, two-putting for par to capture the 2010 U.S. Open at Pebble Beach Golf Links to add his name to the Hall of Fame list of major champions at the legendary course.

Fittingly, in a championship where a score of par is the most meaningful, the 30-year-old McDowell posted an even-par 284 for the 72 holes to become the first European winner of the championship since England's Tony Jacklin in 1970.

McDowell's rounds of 71-68-71-74 left him one stroke ahead of France's Gregory Havret, who was playing in his first U.S. Open, two clear of South Africa's Ernie Els, and three ahead of the two top-ranked players in the world, Tiger Woods and Phil Mickelson, who tied for fourth at 287.

McDowell became only the third golfer from the United Kingdom to win a professional event at Pebble Beach. The others were Peter Oosterhius of England, who captured the 1982 and 1984 Spalding Invitational Pro-Am, and "Lighthorse" Harry Cooper, also of England, who won the 1926 Monterey Peninsula Open.

McDowell also is the only non-American to win any of the 15 United States Golf Association events held at Pebble Beach Golf Links, which already can start planning to host more international players as host for the 2018 U.S. Amateur and the 2019 U.S. Open championships.

"What a week," beamed McDowell, as he kissed and hugged the silver trophy, where his name will be etched with the 109 previous winners, include the four who won previously at Pebble Beach – Jack Nicklaus (1972), Tom Watson (1982), Tom Kite (1992) and Tiger Woods (2000). "I just can't believe I'm standing here with this thing right now. It's an absolute dream come true."

On the other hand, Sunday was a nightmare for Dustin Johnson, who was 6 under par and took a three-shot lead into the final round. Johnson, who came to the U.S. Open with back-to-back victories at the AT&T Pebble Beach National Pro-Am, self-destructed early and often en route to an 11-over-par 82 to finish in a four-way tie for eighth. Johnson's collapse was reminiscent of Gil Morgan in 1992, when he held the 54-hole lead at Pebble Beach and finished with an 81 to tie for 13th.

In contrast to the thrilling golf that led up to Sunday – including Phil Mickelson's fabulous 66 Friday and Woods' sensational Saturday charge into contention with his own 66 – the closing round was more of a survival test that nobody seemed able to survive.

"Good golf got rewarded and bad golf got punished...pretty badly," McDowell said.

While Pebble Beach welcomed a new champion to its U.S. Open history, it said goodbye to another: Watson, who played his first national championship in the 1972 Open at Pebble Beach, and expects 2010 was his last. At age 60 and playing on a special exemption from the USGA, Watson exceeded all expectations, finishing tied for 29th.

Upon completing his round, Watson turned and threw his golf ball into Stillwater Cove, just as he did the day he won in 1982.

As is the custom, the U.S. Open concluded on Fathers Day, and McDowell celebrated with his father, Kenny, who was on hand to watch his son's triumph.

"This is just a special golf course to win," McDowell said. Pebble Beach, it's such a special venue. To join the list of names – Tom Kite, Tom Watson, Tiger Woods, Jack Nicklaus – I can't believe I'm standing here as a Major Champion."

Cycling Medical Team Rolling Around Golf Course View Story

Bicycles have been strictly prohibited from Pebble Beach Golf Links this week, unless you happen to be one of the 20-plus members of the elite Bike Medic Team.

"I hear people saying, 'Why do they get to have their bikes?'" said Leslie Trapin, and Emergency Room nurse from Community Hospital Of The Monterey Peninsula (CHOMP). "And then they see our red medic armband and know why."

Made up of CHOMP doctors and nurses, the two-wheel roving medical staff has been riding throughout the grounds during the U.S. Open Championship on their own personal bicycles, which allow them to respond quickly – and quietly.

"The bicycles are invaluable," said Robin Hamelin, battalion chief for the Pebble Beach Fire Prevention Department. "It allows us to be very, very flexible and get there quickly."

The Bike Medic Team is part of the all-encompassing volunteer medical staff of close to 80, which includes doctors, nurses and paramedics. "The bikes can get around to places the golf medical carts can't," said Skip Ratstep, one of the Monterey County paramedics who is helping coordinate on-course response. "And they are silent. I guess the golfers like that."

With 38,500 spectators at the legendary links every day of the competition, traffic flow – both vehicular and human – inevitably clogs. "But once people know why you need to get by, they let you through," Trapin said. "It's really been great."

Dr. Mike Smith, the Chief of Staff at CHOMP, is an avid cyclist who lives at Pebble Beach, said he is pleased to see how well the Bike Medic Team has worked.

"In nine years, when the Open comes back, I would like to see even more of us out here," he said. "I know I would definitely do it again."

THE MAGIC RETURNS IN 2019

U.S. Open Coming Back To 'Celebrate' In 2019

Pebble Beach Golf Links and the USGA again will celebrate a Centennial together, when the U.S. Open Championship returns for a sixth time in 2019.

Pebble Beach, which hosted the USGA's Centennial U.S. Open in 2000, will welcome back the championship in 2019, when the legendary links is celebrating its own Centennial Anniversary.

"Pebble Beach and the U.S. Open have become synonymous," said William L. Perocchi, Chief Executive Officer of Pebble Beach Company. "There have been so many memorable moments that have happened here. Each Open has been special."

As final preparations are being made for Pebble Beach to host this year's U.S. Open, the USGA announced its intent to extend its relationship with Pebble Beach, not only with the 2019 U.S. Open, but also setting the 2018 U.S. Amateur for Pebble Beach.

The back-to-back championships will be a follow-up to the 1999 U.S. Amateur and 2000 U.S. Open at Pebble Beach. Just as in 1999, the first two rounds of stroke-play qualifying for the 2018 U.S. Amateur will be held at Spyglass Hill.

"Pebble Beach is a magical place," said Tom O'Toole, chairman of the USGA championship committee. "It is one of our most treasured U.S. Open sites."

Pebble Beach made U.S. Open history in 1972 when it became the first championship played on a course that is open to the public. The U.S. Open has since returned in 1982, 1992, 2000 and 2010.

The USGA's relationship with Pebble Beach goes back almost to the beginning of the links themselves. Pebble Beach hosted the U.S. Amateur in 1929, 1947 and 1999, and the U.S. Women's Amateur in 1940 and 1948. The 1942 U.S. Amateur was scheduled for Pebble Beach, but was canceled because of World War II.

Click here for the official Pebble Beach Resorts press release
Pebble Beach Golf Links is proud to be a five-time host of the U.S. Open. View highlights from past U.S. Open Championships.