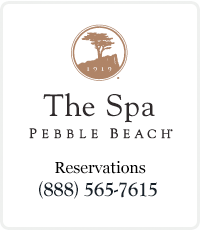 The Spa at Pebble Beach
Premier Spa Treatments Near Monterey & Carmel
The Pacific Ocean. Del Monte Forest. These two magnificent realms converge only one place on earth—Pebble Beach Resorts. The Spa at Pebble Beach celebrates this combination with signature services that incorporate the healing properties of plants, herbs and minerals indigenous to California's Monterey Peninsula.
We invite you to relax, rejuvenate and revitalize your body and spirit at our 22,000 square-foot, full-service spa and salon nestled in the heart of Del Monte Forest, adjacent to Casa Palmero and near The Lodge at Pebble Beach. Choose from a variety of spa services designed to reduce stress and enhance balance including massages, body scrubs and wraps, water treatments, skin care, nail care and hair care. Continue to re-energize your body at The Spa Juice Bar & Cafe, enjoy a refreshing beverage or light meal to complete your spa experience.
Our professional staff is trained to help you select appropriate services and to provide impeccable personalized service for an experience that exceeds your expectations.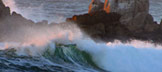 These treatments make the most of our location to thoroughly complement your Pebble Beach experience.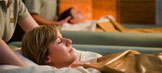 This wrap is heaven-on-earth—a magical formula infuses your skin with moisture while our dry flotation beds allow the body to float freely in heated bliss.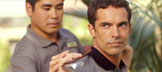 A perfect ending to a round of golf, this therapy assists in recovery by focusing on tired forearms, neck, lower back and hips. Especially beneficial if you plan to play the next day.
For Spa reservations, please call (831) 649-7615 or (888) 565-7615.
Pebble Beach Company would like to acknowledge the fine photographers who provided images for this section: Scott Campbell, TGO Photography and Alexander Vertikoff.