66th Annual
Pebble Beach Concours d'Elegance
The Finest Exhibition of Showcars • Sunday, August 21, 2016

For information, call
(831) 622-1700

Official Website
For tickets, call
(877) 693-0009
Photo Gallery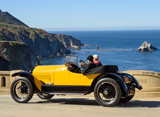 View Photo Gallery

Since 1950, Pebble Beach has been host to what is quite simply the finest exhibition of showcars in the world. Held each August on the 18th Fairway of Pebble Beach Golf Links, the Pebble Beach Concours d'Elegance is an annual gathering of rare and antique automobiles, international automotive luminaries and motorcar enthusiasts from around the globe. It is an event of dazzling elegance, appropriately held at a resort famous for both its beauty and its refinement.
The Concours d'Elegance has always been the site of some of the automotive world's most significant "firsts." Bugatti presented its first-ever gathering of the only six Bugatti Royales ever made at the 1985 Concours d'Elegance. They are widely considered the world's most valuable cars.
Four years later, the only three Alfa Romeo BATs were similarly brought together here. Ferrari made a major market introduction at the Concours d'Elegance in 1994; so did Rolls-Royce/Bentley. In fact, the Concours d'Elegance was the first concours in history to be chosen to display automakers' current prototypes.
View Pebble Beach Concours d'Elegance photos
And join the conversation on Facebook!
Concours d'Elegance Video Library