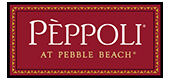 Reservations
(831) 647-7433
Northern Italian flavors
Tuscan villa décor
Extraordinary wine list
View video showcasing the dining experience at Pebble Beach Resorts

Pèppoli at Pebble Beach
Rich with Italian tradition
Italy's rich traditions, culture and cuisine join in a welcoming embrace at Pèppoli at Pebble Beach. Authentic Tuscan-style dishes are paired with the widest selection of Antinori wines outside of Tuscany. Pèppoli takes its name from one of the wine estates of Marchese Piero Antinori, who has been called "the most important winemaker in Italy."
The menu is big and bold, ripe with traditional pastas, seafoods and meats. Begin with mouth-watering antipasti, perhaps a plate of Italian meats and olives or wedges of Artisan cheeses. The salads and soups are memorable and the main courses divine. Enjoy Spaghetti alla Carbonara, Risotto ai Porcini, Gnocchi ali Tartufo Nero, or a Tuscan T-bone for two, carved tableside.
Naturally, the wine list at Pèppoli is extraordinary. And the desserts – magnifico! Ask about our special events, such as our gala winemaker dinners and "Under the Tuscan Moon" prix fixe dinners.
When you enter Pèppoli, you're enveloped in the warmth of Italy. The scents of Italian herbs and spices fill the air and the décor transports you to a cozy Tuscan villa.
For reservations, call (831) 647-7433. Resort attire, please.
Serving Dinner.
While dining at our restaurants, please present your gate receipt to your server, to have your gate fee reimbursed with a purchase of $35.
Awards & Recognition
Best of Award of Excellence
Wine Spectator • 2008, 2009, 2010, 2011, 2012, 2013, 2014, 2015