Three Collaborators, One Stunning Course
---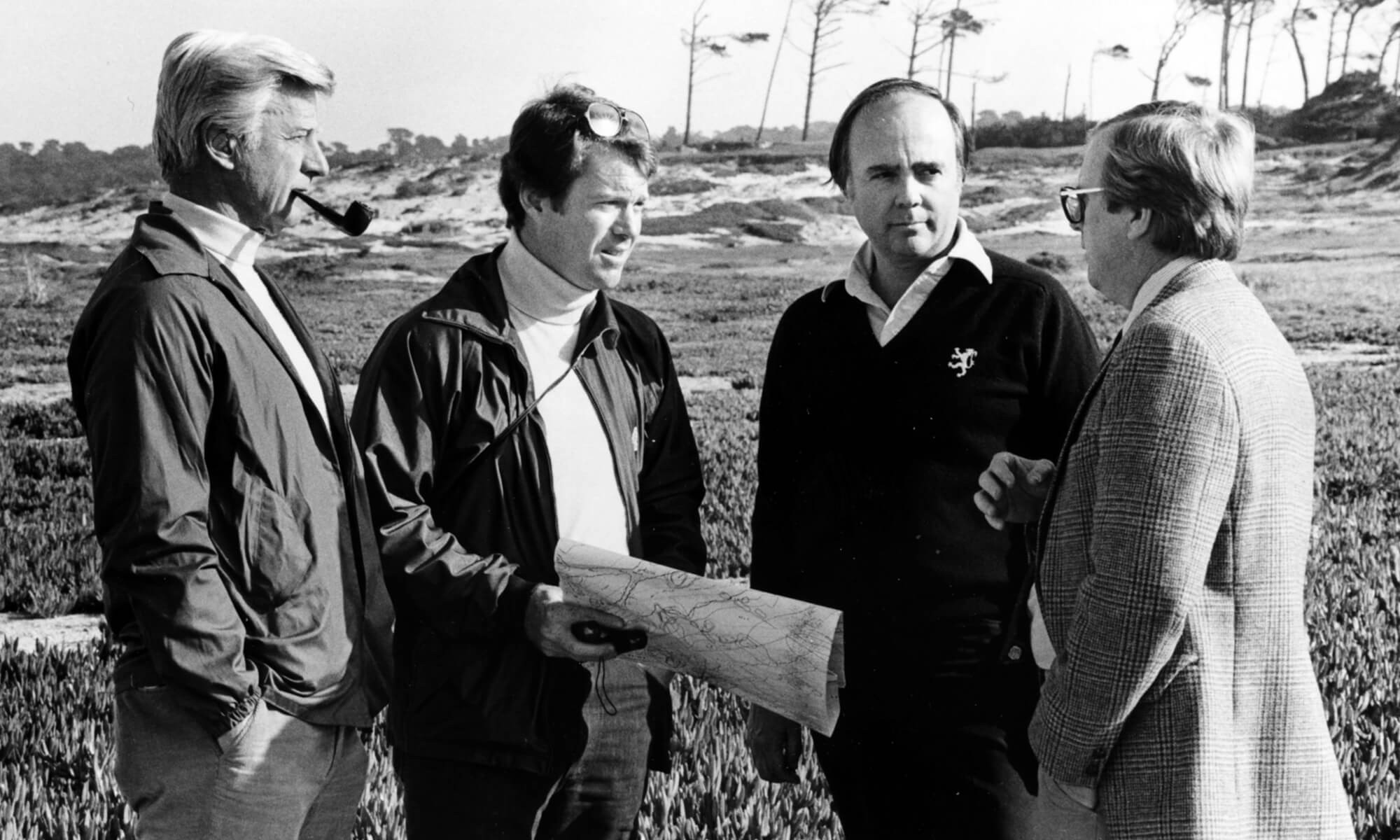 Robert Trent Jones, Jr. worked with links-golf fans Tom Watson and Frank D. "Sandy" Tatum to bring the Scottish links tradition to The Links at Spanish Bay.
Robert Trent Jones, Jr.
Master Architect
In a career spanning more than four decades, Robert Trent Jones, Jr. has designed more than 245 golf courses in more than 40 countries on six continents—including The Links at Spanish Bay.
Robert Trent Jones, Jr. (Bobby) was born in 1939 and learned about golf at Winged Foot Golf Club from the legendary Tommy Armour, who not only taught Jones the techniques of good golf, but also captured his imagination with the folklore surrounding the game. After studying geology and majoring in history and American studies at Yale, and attending a year of law school at Stanford University, Jones graduated into the family business.
His earliest experience was working beside his father on the legendary Spyglass Hill in the 1960s. In 1972, the son left his father's firm and set out on his own by founding Robert Trent Jones II golf course architects, where he has assembled what is arguably the most talented golf course architecture team in the industry.
Jones is a member of the California Golf Hall of Fame; a long-standing member, former president, and current board member of the American Society of Golf Course Architects; and the recipient of many other industry awards and honors.
Known as the father of environmental golf course design, Jones respects and embraces the land in his work. He describes his courses as "of the earth…for the spirit." An article in Smithsonian Magazine once described his work as "a case study of how a golf course can have a surprisingly low impact on even a sensitive environmental area." Jones has proved this at The Links at Spanish Bay.
In creating his well-loved courses, Jones likes to present golfers with a blend of penal, strategic, and heroic golf puzzles that it is up to each golfer to solve—often by determining the best position from which to attack the holes. Jones keeps metaphorically comparable activities such as chess, billiards and certain target sports in mind when sketching out holes. His focus is on shot values and fine aesthetic appearances.
Jones adds, "The very best courses are those where nature has provided the canvas and my job is to discover her secrets and reveal them. I try to design golf courses that will fascinate people so they'll want to play them many times and learn the depths and meanings of the courses' stories, their subtext, their poetry."
Tom Watson
From his roots in Kansas City, through college golf at Stanford University, and more than 25 years on the PGA TOUR, Tom Watson has built a spot for himself among the greatest to play the game. Only five other golfers have more victories in major championships.
From 1977 through 1984, Watson dominated the PGA TOUR, winning Player of the Year honors six times. He won the Masters in 1977 and 1981 and grabbed the U.S. Open Championship in 1982. He has won five British Open titles and was the TOUR's leading money winner five times.
Overall, he has won 39 tournaments on the PGA TOUR and Champions Tour. His passion for and success on British links courses made him ideally suited to assist on a true links design in America.
Watson's course design is intended to challenge the limits of the golfer's mental and physical skills. With this goal in mind, Watson strives to excite golfers of every caliber, all the while providing a memorable golfing experience.
Tom achieves these two vital criteria within the ultimate framework of remaining sensitive to the environment, providing innovative design, drawing inspiration from the site and meeting the economic parameters of the entire project.
Frank "Sandy" Tatum
Born in Los Angeles in 1920, Tatum took to golf early, scoring his first hole-in-one at the age of 11. He played on the golf team at Stanford University where he earned an engineering degree in 1942. His Stanford team won back-to-back NCAA championships in 1941 and 1942, and Tatum won the individual title in 1942.
After World War II, he studied at Oxford as a Rhodes Scholar from 1947-49 and returned to Stanford, receiving his law degree and entering the California Bar in 1950. While practicing law he maintained his passion for golf, pairing with professional Wes Ellis to win the 1961 Crosby Pro-Am at Pebble Beach.
Tatum's passion also led to his selection to prepare Pebble Beach Golf Links for the 1972 U.S. Open, for which he enlisted the assistance Jack Neville, who helped build the course. Tatum then served on the Executive Committee of the USGA from 1972-79, serving as its president in 1978-79.
Responding to player complaints from the 1974 U.S. Open, Tatum famously defended the U.S. Open course set-up, stating, "We had no intention of confounding the best players in the world. We just wanted to identify who they were." (Sports Illustrated, July 1, 1974)
He became good friends with Tom Watson and paired with him for many years in The Crosby. A true student of the game, he then joined Watson and Robert Trent Jones, Jr. to design and build a true links-style course—The Links at Spanish Bay. Tatum has also assisted Jim Summers on course designs in California: The Golf Club Tierra Oaks, in Redding (1993), Mount Shasta Resort (1993), Lockeford Springs in Lodi (1995), and Stone Tree Lane in Novato (2000).
As a strong advocate for public golf, Tatum's joy was fulfilled when he was able to push through the renovation of San Francisco's city-owned Harding Park Golf Course and attract professional golfers to use it for the 2003 WGC-American Express Championship, won by Tiger Woods. Harding Park later hosted the 2009 Presidents Cup and the 2015 WGC Match Play.