Friday at the AT&T: Eagles, Stellar Putting and Nick Taylor's Solo Lead
It was another exciting day at the 2020 AT&T Pebble Beach Pro-Am! While the positioning of the field looks quite different from the end of round one, one thing did not budge: Nick Taylor's name at the top of the leaderboard. Today also saw impressive moments from Jason Day, who ended his day at -12 to reach the second spot.
View this post on Instagram
Nick Taylor Maintains His Lead
Taylor clung on to his solo lead on the second day, with Jason Day and Phil Mickelson not far behind.
"I hit some really good shots coming in and made all the putts," said Taylor. "So obviously it was all coming together there. 12 was a really good bogey save that kind of kept my round together, and hit some quality shots coming in, so it was nice to kind of capitalize coming in."
Jason Day wowed crowds with a great performance today including plenty of birdies and an eagle. More on that in our highlights, below.
Mickelson continued to drive the ball well on day two. He opened with back-to-back birdies followed by an eagle. This leaves him looking in good shape to qualify for the U.S. Open in June, for which he'll need to get into the World Golf Ranking top 60 (currently, he sits at 72).
The Eagle Has Landed
Several eagles were made today, making for excitement among spectators. Chris Baker eagled the 6th, Jason Day eagled the 14th and Phil Mickelson eagled the 16th. In addition to his eagle, Chris Baker birdied seven times and bogeyed once. Impressive, considering it was Baker's first tournament round at Pebble Beach!
Two shots off the lead.

Five-time @ATTProAm champ @PhilMickelson eagles the 16th. #LiveUnderPar pic.twitter.com/PF2Z6PJhsZ
— PGA TOUR (@PGATOUR) February 7, 2020
Said Mickelson, "I haven't been putting it together until the last couple weeks, so I'm hopeful that I'll continue it going into tomorrow. And there's nothing better if you are a golfer and you love this game than playing Pebble Beach on a beautiful day."
Perfect Putts
Jason Day wowed on the putting green, with the PGA TOUR even praising him as the dictionary definition of a perfect putter. "I feel like it's been a long time since I've actually been out there and felt the way that I felt out there today and played well like that. You're very thankful," said Day following his round.
"The Monahan" Could Be the Newest Drink at Palmer's Club 18
At around 2:00 p.m. on the 18th fairway, Jay Monahan hit a shot that reportedly resulted in a ball landing in an attendee's beverage. There was lots of excitement at the Palmer's Club 18 grandstands as officials prepared to get the ball back into play. Bystanders jokingly catcalled Monahan, asking if he was planning to pay for the woman's drink, and noting that a drink would now have to be named after him in honor of the humorous occasion.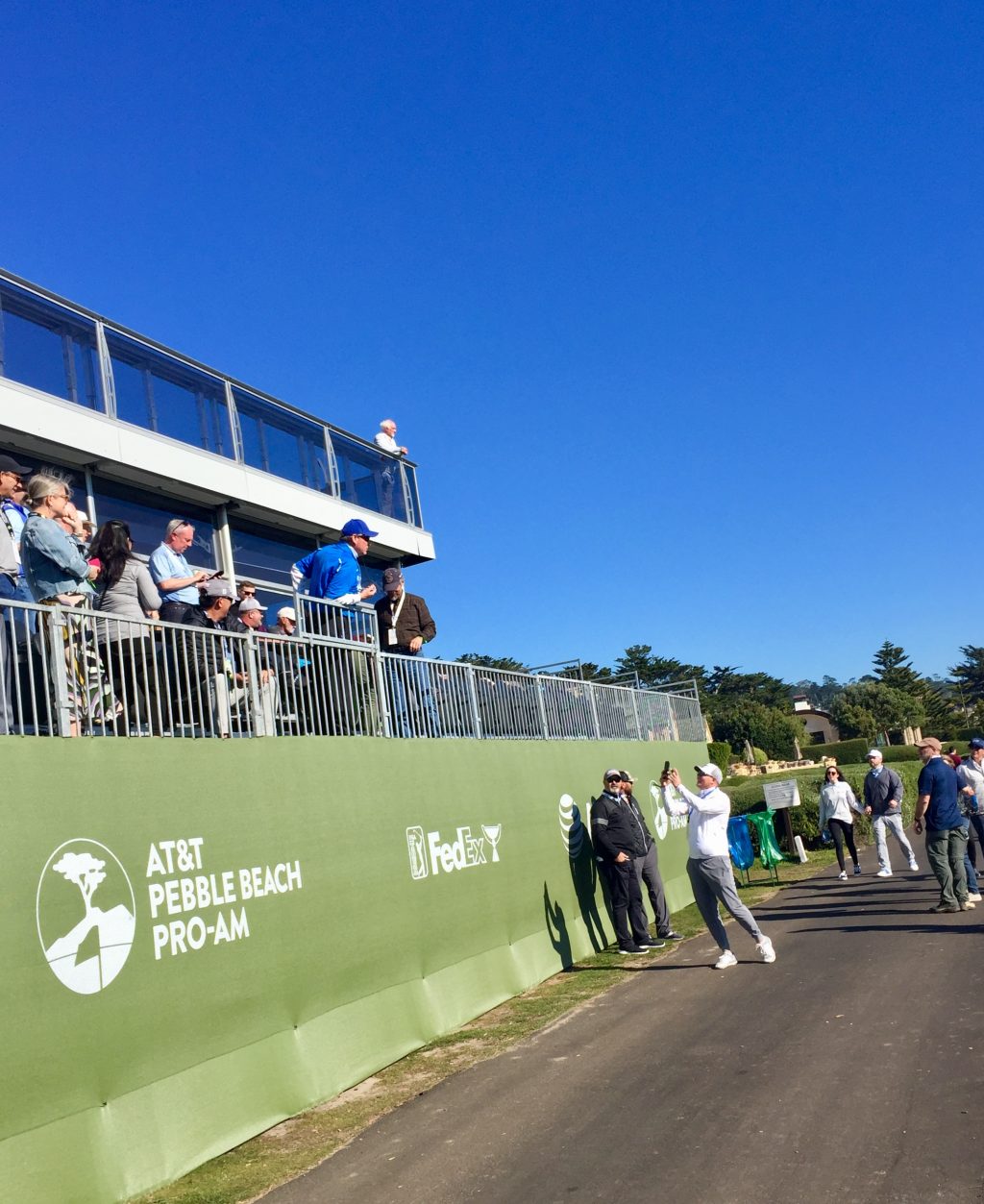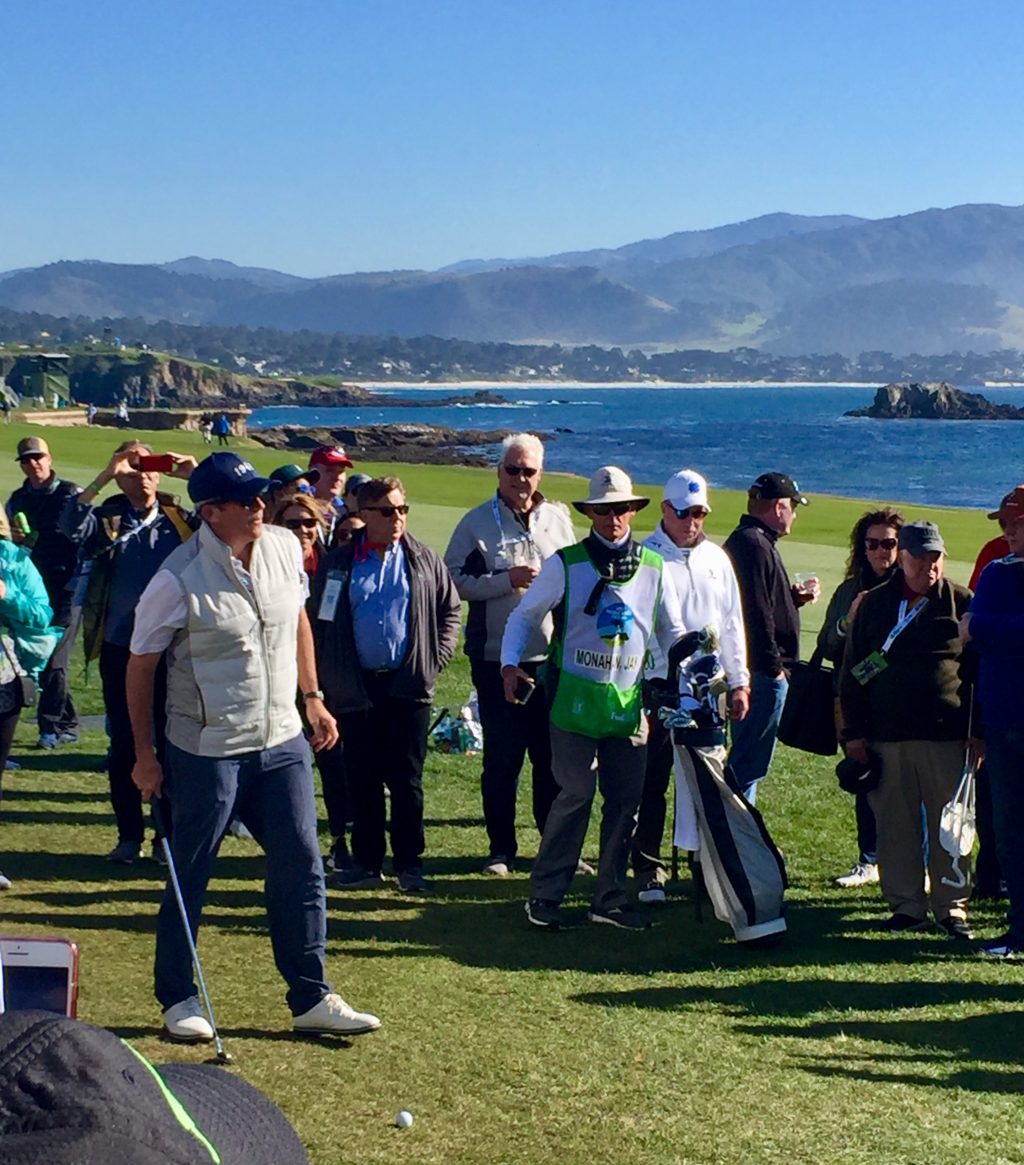 From excellent golf to joyful laughter, the special feeling of the AT&T Pebble Beach Pro-Am was alive and well today.
Friday at the AT&T: Eagles, Stellar Putting and Nick Taylor's Solo Lead