Jordan Spieth lapped the field through three rounds of the 2017 AT&T Pebble Beach Pro-Am, turning Sunday into a victory lap. Spieth's sensational play left a lasting impression, but it won't be the only thing we remember.
These were our favorite highlights from a soaking-wet-turned-sunny week:
1. THE STORIES FROM NO. 7 ON TUESDAY WERE THE STUFF OF PEBBLE BEACH LORE
The weather was truly awful Tuesday, but that didn't stop a handful of brave souls from battling ugly Crosby conditions at Pebble Beach. Bomber Tony Finau needed a stinger 5-iron to reach the shortest hole on the PGA TOUR.
2. JUSTIN ROSE TOOK A SPECTACULAR SELFIE ON SATURDAY
Yes, Justin Rose took a selfie in the middle of a golf tournament. The perfectly timed shot Saturday nearly captured a hole-in-one from his amateur partner Justin Timberlake. The ball cruelly danced around the hole and somehow stayed out. Said Timberlake, "That would have been something, right?"
3. THIS WAS THE BEST SHOT SPIETH HIT ALL WEEK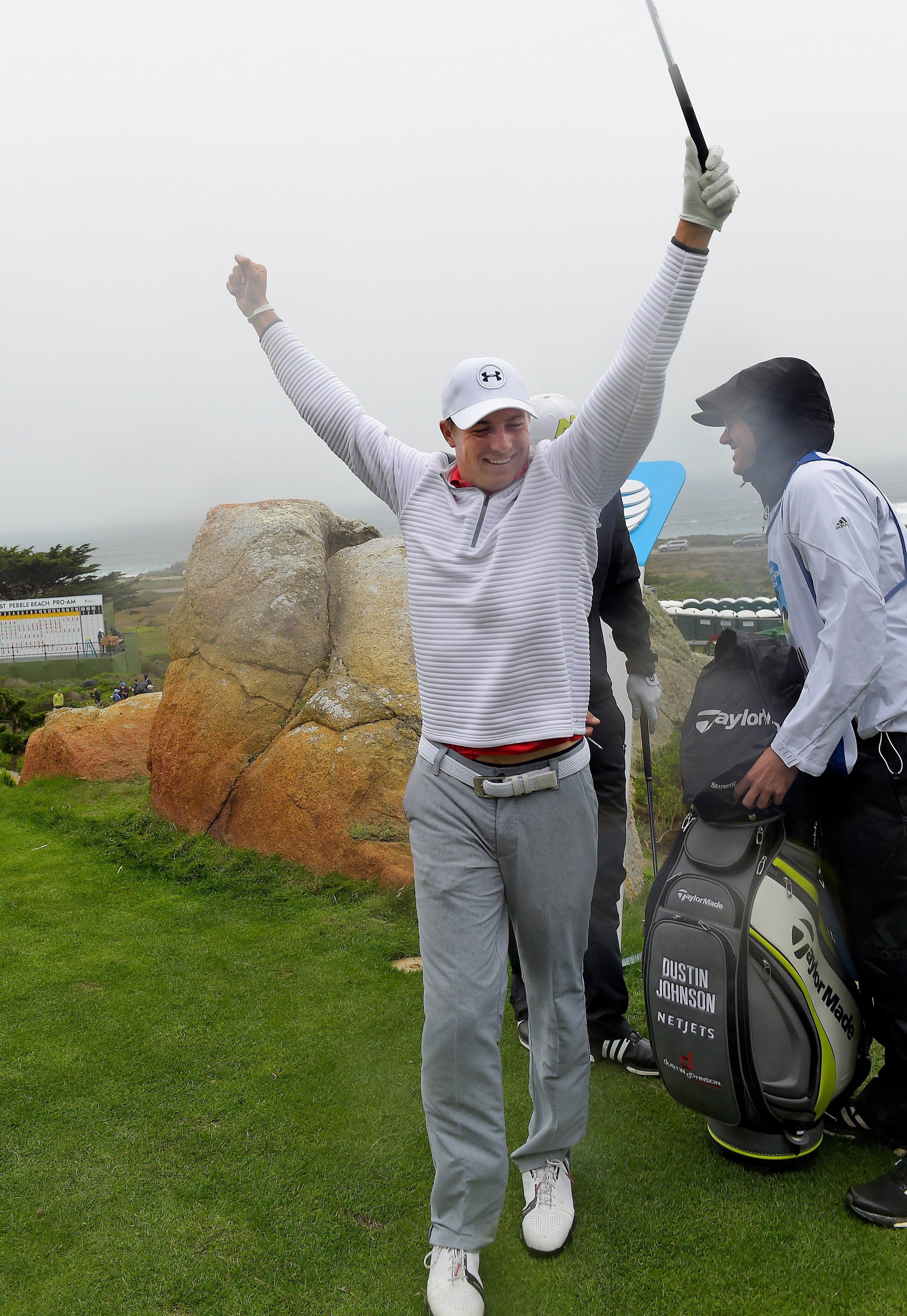 Actually, Spieth declared that the 4-iron he hit Thursday into a sideways rain from 177 yards on the elevated No. 11 at Monterey Peninsula Country Club to 6 feet was "the best shot I've ever hit." (The weather was so bad that on the next hole, playing partner Dustin Johnson — perennially the game's longest hitter — failed to reach a par-5 in three shots. Asked if that had ever happened before, Johnson quickly replied, "Never.")
Spieth battled to 3-under through 16 holes on the exposed Shore Course at MPCC — the best score of the day there. The leaderboard at the end of Round 1 showed Spieth trailing a trio of Spyglass Hill golfers by one shot, but that hid how well he had played in the week's worst weather. Spieth soon distanced himself with back-to-back 65s to take a six-stroke lead into the final round.
4. THIS WAS THE BEST PASS PEYTON MANNING THREW ALL WEEK
Catch a TD pass from one of the greatest to ever do it. ✅ ?✅ ? ?. Peyton Manning, aka "The Sheriff."??? ? #pebblebeachproam

A video posted by Mounir Gad (@mounirgad) on
The play call? "You catch it, I'll sign it," Peyton Manning told the eager fan. So the fan jumped out of a house party above the fifth green at Spyglass Hill and chased down Manning's pass in front of a pot bunker to score a sweet signature.
5. THIS WAS THE BEST TRICK SHOT HIT DURING A FOG DELAY ALL WEEK
We don't know how many takes it took, but Timberlake was playing to a 4-handicap this week.
6. A HECKLER WAS HUMOROUSLY PUT IN HIS PLACE BY LARRY THE CABLE GUY
A heckler got a little too confident (liquid courage, perhaps?), and Larry the Cable Guy called his bluff. The heckler was invited to tap in Larry the Cable Guy's remaining putt, but missed, and was thrown back into the gallery by the collar. (Although, if you heckle a left-hander, you better be able to use left-handed clubs.)
7. BILL MURRAY DELIVERED FOUR ROUNDS OF STAND-UP COMEDY
Well, actually five if you include the celebrity shootout Bill Murray headlined on Wednesday. And he somehow musters up the energy and focus to play well enough to make the cut.
8. SPIETH MADE IT LOOK EASY, BUT HE BEAT A STACKED FIELD THAT PLAYED PRETTY WELL
World No. 1 Jason Day was tied with Spieth at 10-under through 36 holes. Then Spieth beat Day by 10 in Round 3. Two-time AT&T winners Brandt Snedeker and Dustin Johnson were both under par all four rounds, but couldn't keep pace. Torrey Pines winner Jon Rahm rattled off six straight birdies at Pebble Beach, but ended up losing ground to Spieth's 65 at Spyglass Hill by the end of the day. Spieth was simply a stud, hitting shots like this all week:
9. THERE WAS A MONKEY IN A DIAPER
But no Man in the Yellow Hat. You see something new every year.
10. PEBBLE BEACH WAS GLORIOUS ON SATURDAY AND SUNDAY
The weather was so sublime by the weekend, you needed to see recaps like these to remember how the week started.
---
Facebook Conversations