The Front Nine at Pebble Beach: 'It's Like Heaven's Doors Open Up'
When Jack Nicklaus says that if he only had one more round to play, it would be at Pebble Beach Golf Links, there's not much more to add. But it's fun to hear how pros reacted the first time they experienced some of the most iconic views and shots in golf. Just ask eight-time PGA TOUR winner Fred Funk.
"When I first came out and saw it, it became my No. 1 golf course in the world, and I think if you interview the pros, they'll all say a similar thing," Funk said.
As LPGA Major champion Natalie Gulbis reached the middle of the 4th fairway and that first Pebble Beach-style sweeping ocean panorama, she thought to herself, "It's like heaven's doors just opened up." Gulbis then added, "It's one of those golf courses that I wake up in the morning and I'm so excited to play."
However, there can be a flipside to that.
"It's one of the most intimidating golf courses I've ever played," said PGA Championship winner Rich Beem, who ranks Pebble Beach Golf Links as his favorite course. "You get caught up in the views, so you get distracted so easily, and all of a sudden you've got all of these difficult second shots and these greens that look like the size of a dime. You can get overwhelmed at times."
What makes Pebble Beach Golf Links so special? Let's take a tour of the ocean views that can be found on nearly every 18 hole, starting with the front nine.
See the Ocean Views on the Back Nine at Pebble Beach
3rd Hole (390 Yards, Par-4)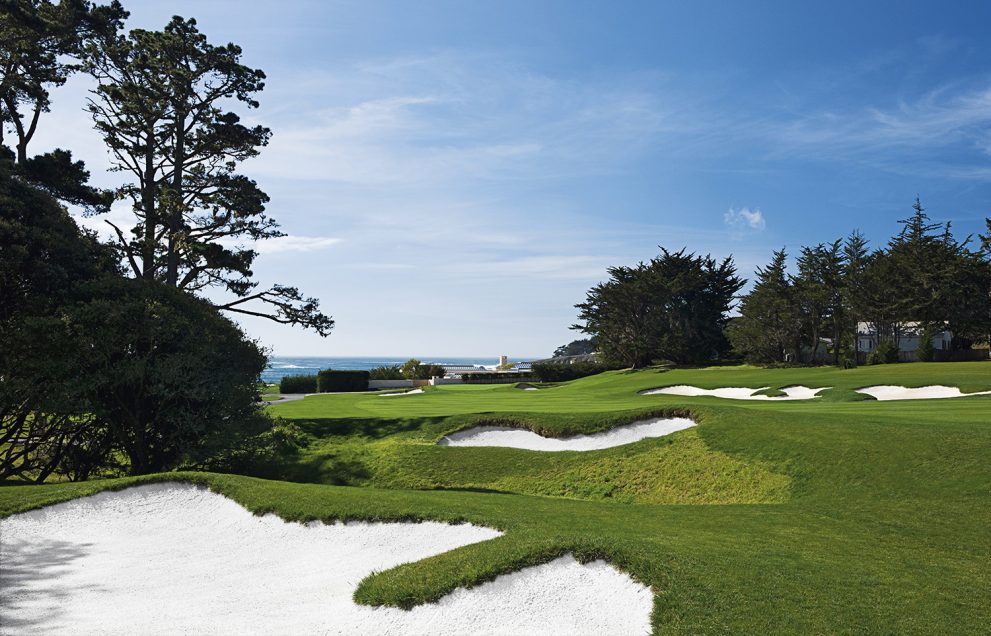 Even though you can't see the ocean on the first two holes, you can still feel it. Pros consider the first green one of the most difficult to read, because balls race from left to right and toward that blue magnet known as the Pacific Ocean. It's a disorienting affect, especially since you can't see the sea yet.
But by the time you reach the third green, the ocean's pull will be in full affect—and hopefully the views of Stillwater Cove will act as a reminder. But even knowing that, World Golf Hall of Famer Hale Irwin says, "I think the third green is the hardest green to read in the whole world."
4th Hole (326 Yards, Par-4)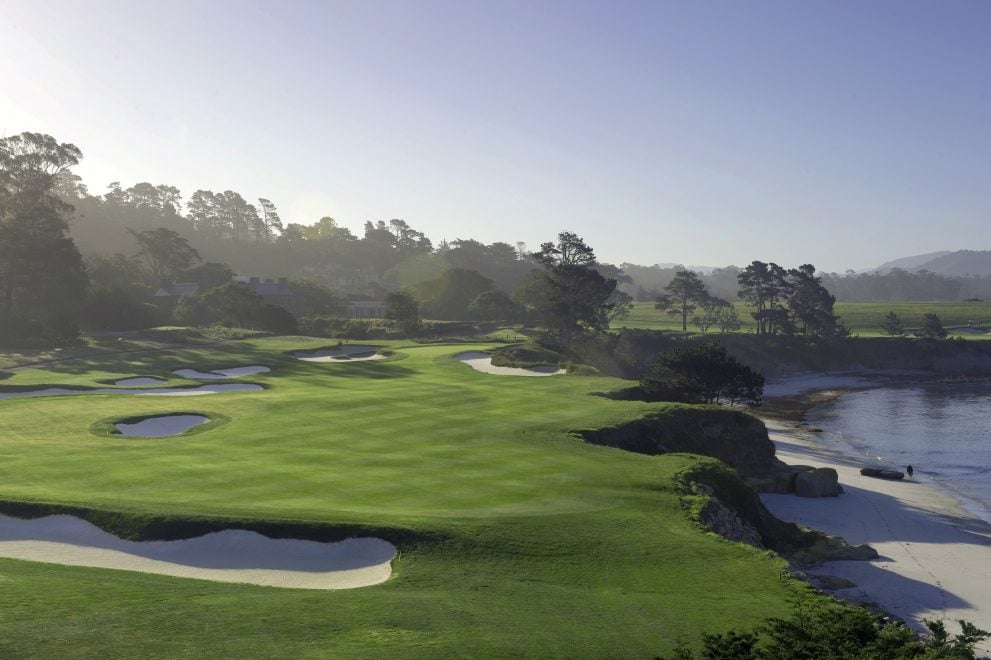 Get ready for the finest seven-hole stretch of oceanside golf in existence. Every single swing brings the ocean in play if you miss right, starting with the tee shot on No. 4. It's a devilish and precise par-4 — although Dustin Johnson managed to smack a 290-yard 3-iron onto the green for a tap-in eagle during the 2010 U.S. Open. For the rest of us, we've got to dodge nine bunkers, including four that surround a strongly pitched green that is just 25 paces deep.
5th Hole (192 Yards, Par-3)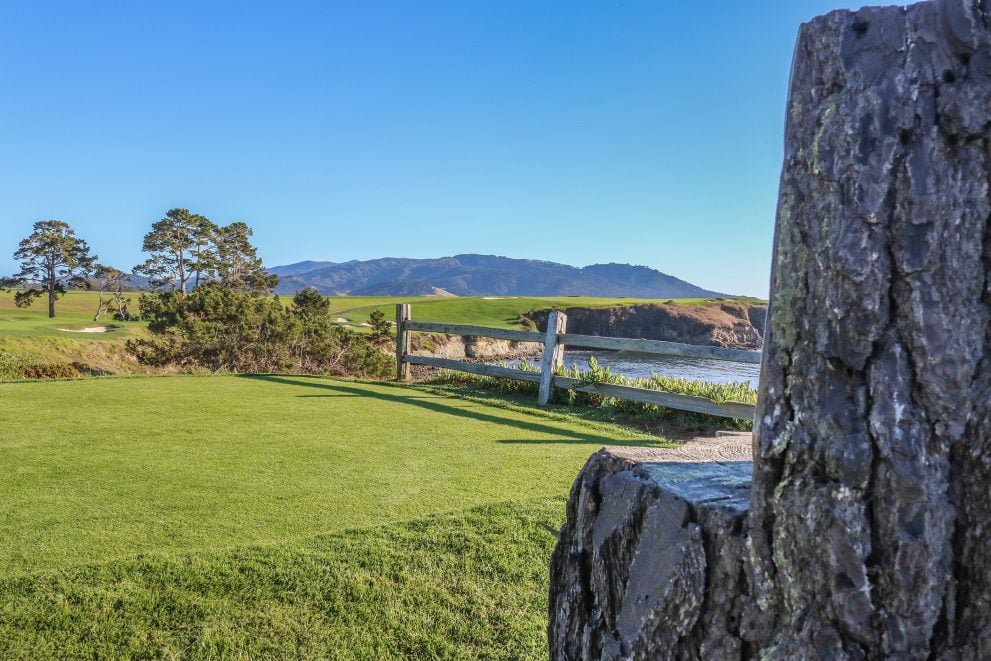 The new hole was built in 1998 on land that had regretfully been sold before Pebble Beach Golf Links was created. This stunning oceanfront stretch was previously interrupted by a blind, uphill par-3 that was not-so-lovingly referred to as the only dogleg par-3 in golf. Now the Jack Nicklaus creation requires a high-soft fade into the only green that slopes from front-to-back.
6th Hole (506 Yards, Par-5)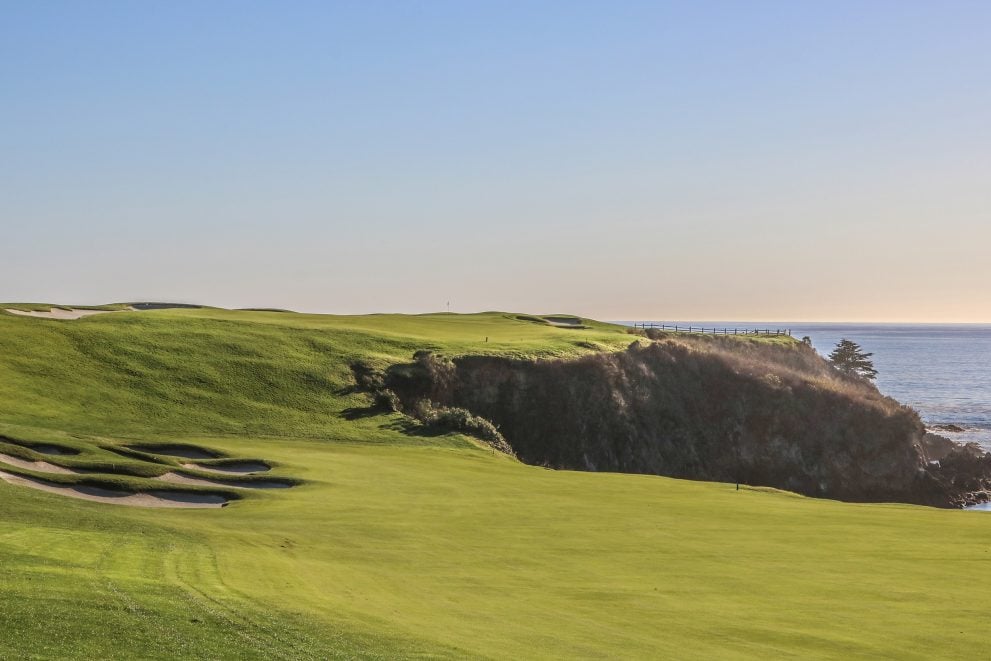 The ocean is even more in play since five fairway bunkers were formed to push tee shots closer to the cliff in preparation for the 2010 U.S. Open. And just in the last two months, the tee boxes were swung slightly to the left, further promoting a line at the cliff. Once you are safely off the tee, you still have to challenge the giant face of the cliff, often from a slightly downhill lie.
7th Hole (106 Yards, Par-3)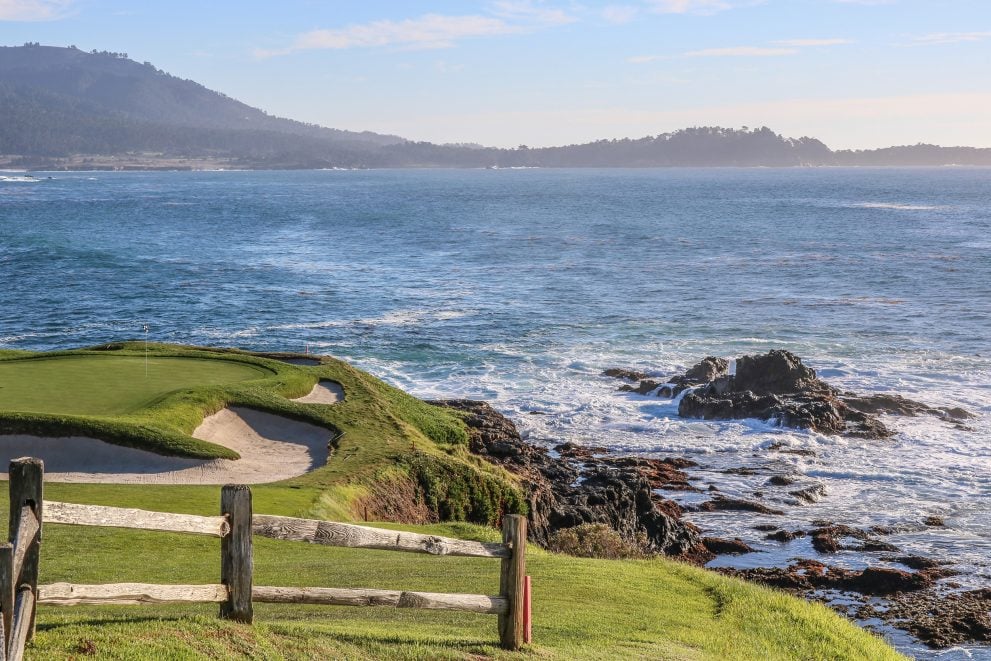 Esteemed golf course architects Pete Dye and Jack Nicklaus have admitted that they probably would have walked right past the land that has become the most famous short par-3 in all of golf. It's the shortest hole on the PGA TOUR, as well as the shortest in U.S. Open history, playing just 92 yards during the final round in 2010. The 25-yard-deep green is also puzzling to read.
"Everything breaks to the ocean, but it's all around you," said Scott McCarron, winner of the 2016 TaylorMade Pebble Beach Invitational presented by Dell EMC. "I can never figure out where that putt is going to break."
8th Hole (427 Yards, Par-4)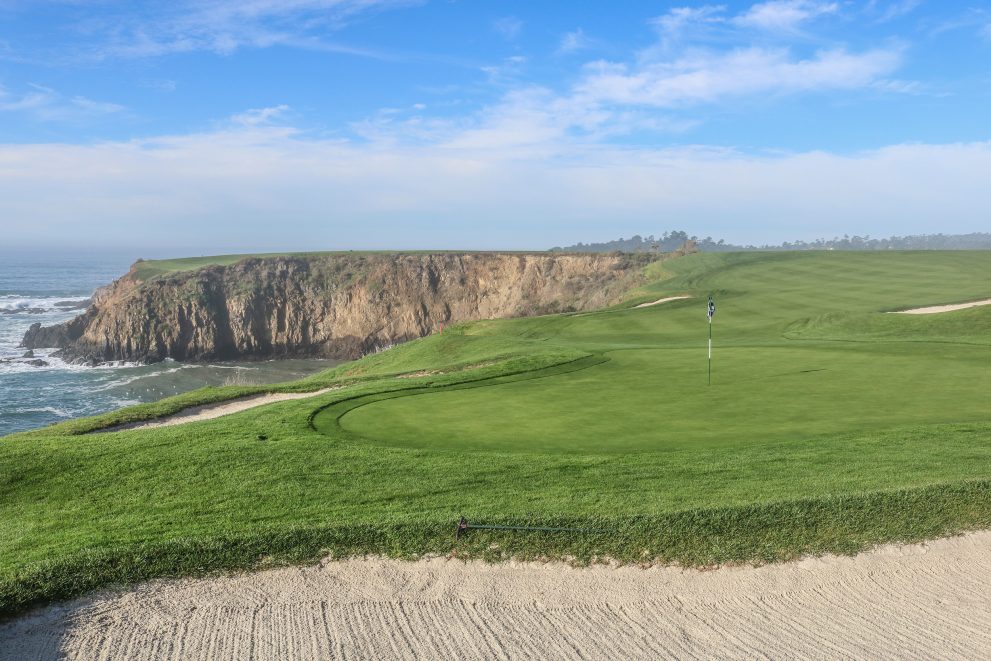 Originally conceived as a par-5 with the green safely situated back by the 9th tee boxes, No. 8 was ultimately built as a par-4 — one Nicklaus calls his favorite in all of golf. Alister MacKenzie rebuilt the green ahead of the 1929 U.S. Amateur, pushing it up against the cliff to create an iconic second shot across an 80-foot-deep chasm.
9th Hole (481 Yards, Par-4)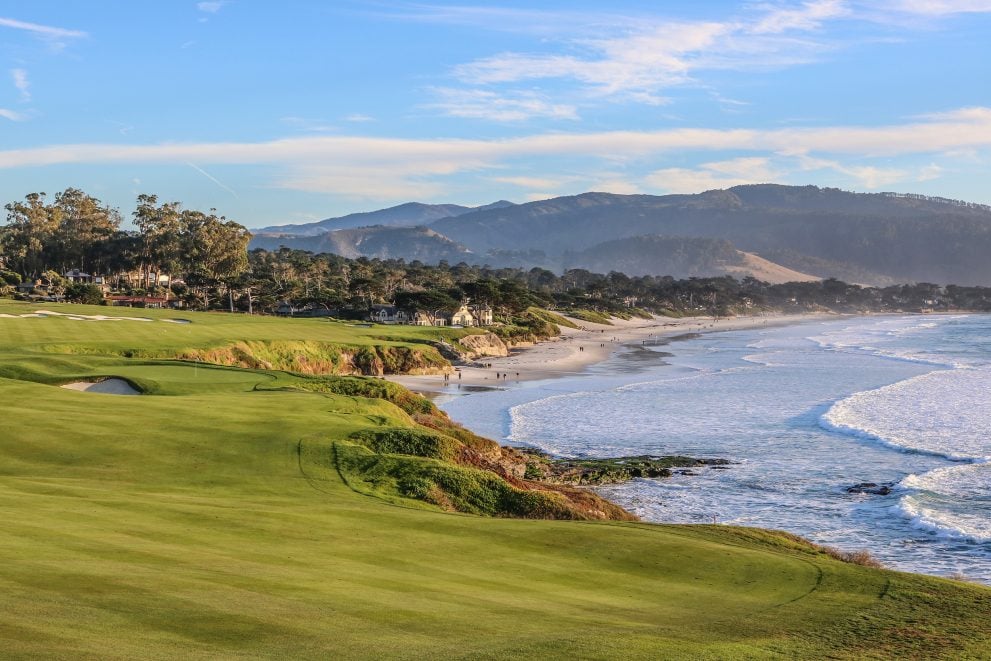 The silhouette of a golfer playing from the crest of the 9th fairway against the eye-popping white sand of Carmel Beach is a photographer's favorite shot during the AT&T Pebble Beach National Pro-Am. It's not always the favorite shot of golfers through. A downhill lie from more than 200 yards away to a 23-yard-deep green surrounded by a gaping bunker and beachside cliffs is as tough as it gets.
Next Up: The Ocean Views on the Back Nine at Pebble Beach
See Part 1: The Ocean Views at Del Monte and Peter Hay
---
Facebook Conversations
The Front Nine at Pebble Beach: 'It's Like Heaven's Doors Open Up'