Palmer's Pebble Beach Legacy
Arnold Palmer will forever be linked to Pebble Beach Golf Links, whether it's recalling 20 years of Bing Crosby tales, recounting his duel with Jack Nicklaus at the 1972 U.S. Open, or enjoying a treasured golf course he has helped restore over the past two decades.
Palmer's seven decades of history with Pebble Beach began with his first Bing Crosby in 1958, the same year the final round of the event was televised for the first time. The television icon credited with popularizing the game both nationally and globally played the Crosby 14 straight years and 20 times in all. And although Palmer captured 62 PGA Tour events and seven majors in his Hall of Fame career, a win at Pebble Beach always found a way to elude him.
Palmer certainly had his close calls, finishing second in 1966 and 1971, and third in 1967. Palmer's third-place finish in 1967 was particularly unlucky, as he trailed by one stroke going into the 14th hole of the final round, but smacked two straight 3-woods off a tree that guarded the right side of the green. Both shots deflected dead right and out of bounds, costing Palmer an eventual quadruple-bogey 9. Ironically, that tree uprooted and blew over in a storm that night.
"Arnold was a gentleman, role model and ambassador of the game, whose name will always be synonymous with the best of golf."
1972 U.S. Open
Palmer arrived at that same 14th green the next year during the final round of the U.S. Open, this time with a birdie putt that could potentially tie or take the lead away from Jack Nicklaus. In an exciting television moment that featured a rare live split-screen, Palmer and Nicklaus both hit 8-foot putts at the same time. Nicklaus buried his bogey save on No. 12, while Palmer's birdie try slid by the hole on No. 14, keeping Nicklaus in the lead by a shot. Palmer ultimately dropped back to third place, while Nicklaus sealed the U.S. Open by famously hitting the flagstick with a 1-iron on No. 17.
"I would have loved to have won an Open at Pebble Beach, which I thought I was going to do," Palmer told Golf Digest in 2000.
Palmer on the Rocks
Golfers often face an unannounced competitor when playing Pebble Beach — Nature itself. Palmer discovered that firsthand in 1963, 1964 and 1967.
Arnold Palmer Hosts Challenge Golf at Pebble Beach
Arnold Palmer hosts a made-for-TV match at Pebble Beach Golf Links in 1964. Watch Palmer and Gary Player challenge Byron Nelson and Ken Venturi.
Course Improvements
Palmer was instrumental in preparing Pebble Beach for the 2010 U.S. Open, as he helped plan a series of improvements that both restored the original look and design integrity of several holes, and bolstered the shot values of many others.
"We really tried to put the golf course where it was in the beginning," said Palmer, who looked at photos from as early as 1918 to guide his work, and pushed play toward the ocean whenever possible.
Palmer's presence will still be felt during the 2019 U.S. Open at Pebble Beach. Just in the last two years, Palmer was involved with the restorations of the 14th and 17th greens, once again using archived photographs to return Pebble Beach back to where it was in the beginning.
"I would have loved to have won an Open at Pebble Beach, which I thought I was going to do"
– Arnold Palmer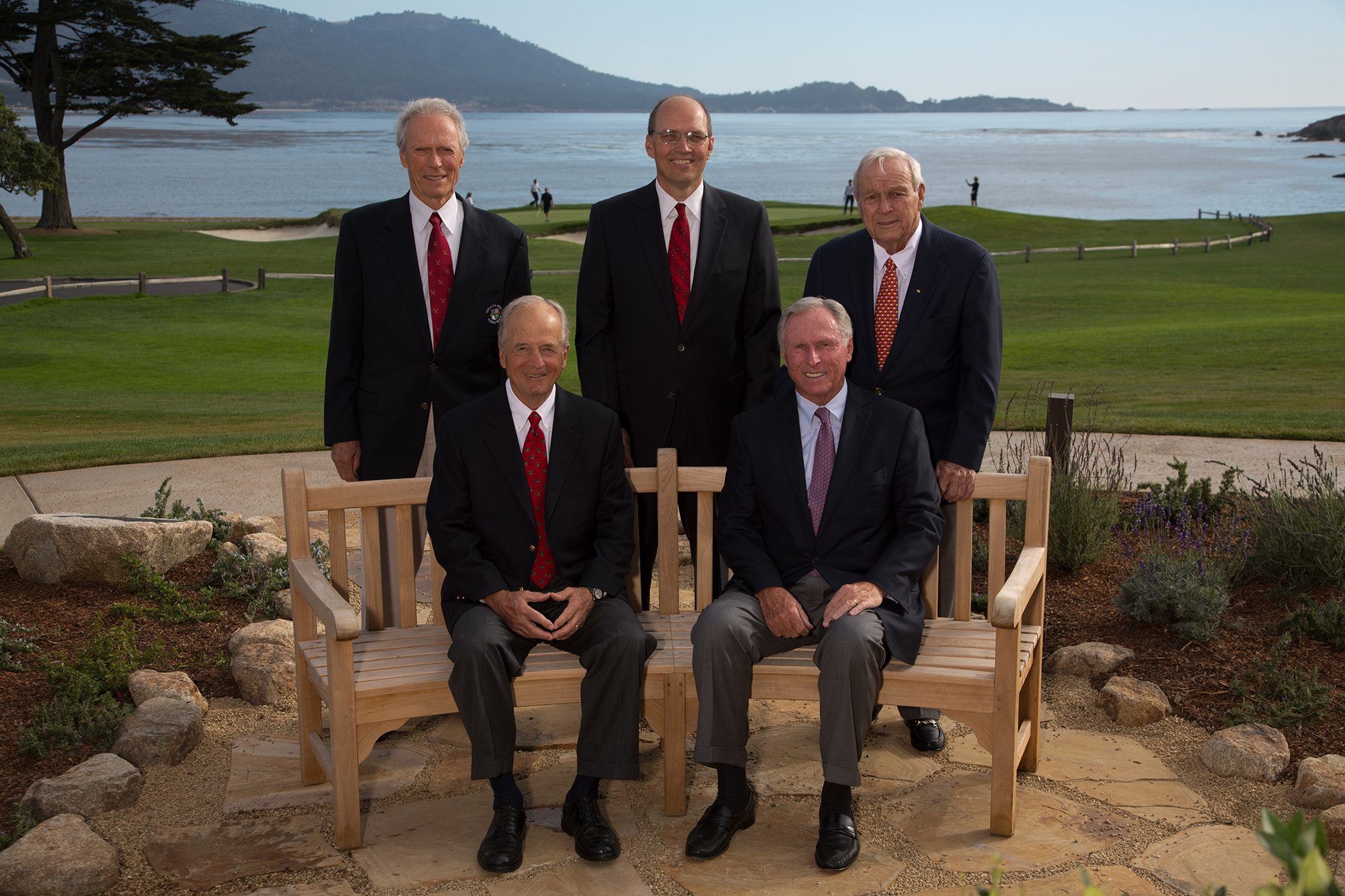 The golf world has suffered a profound loss with the passing of Arnold Palmer. Arnold played a significant role in the purchase of Pebble Beach from the prior Japanese ownership group in 1999, and proudly served on our Board of Directors since that time. He also worked very closely with RJ Harper, our Executive Vice President of Golf and Retail, and his team on virtually every improvement we made to Pebble Beach Golf Links over the last 17 years.
All Pebble Beach Company employees will treasure forever those times when Arnold visited our resort to walk the golf courses and attend events. The resort would be buzzing with excitement when Arnold was around. Arnold would take the time to engage with employees and guests, in only the way that Arnold could. Arnold was a gentleman, role model and ambassador of the game, whose name will always be synonymous with the best of golf. We are fortunate to have him as part of our Pebble Beach legacy.
We send our sincerest condolences to Arnold's family on his passing. They, and the golf world, are in our thoughts.
Bill Perocchi
CEO, Pebble Beach Company