About Peter Hay
Peter Hay was born near Aberdeen, Scotland on February 4, 1885, where he began his career as a caddie at the Royal Aberdeen Golf Club. In 1913, he came to San Francisco to visit his sister and decided to stay. He became a salesman for Spalding golf equipment.
In 1915, he made his way to the Del Monte Golf Course—the premier course in the state and home of the California State Amateur Championship. He was hired on as caddie master and took on a stable of several young local lads for a year-and-a-half. He left the area briefly to run the Stockton Golf and Country Club, but in 1919 he returned to Del Monte Golf Course as the Head Golf Professional.
Peter Hay stayed on at the original Del Monte course until 1943. During that time, he conferred with all the development of golf on the peninsula, and took an active role as Chief Marshal during the 1929 U.S. Amateur at Pebble Beach.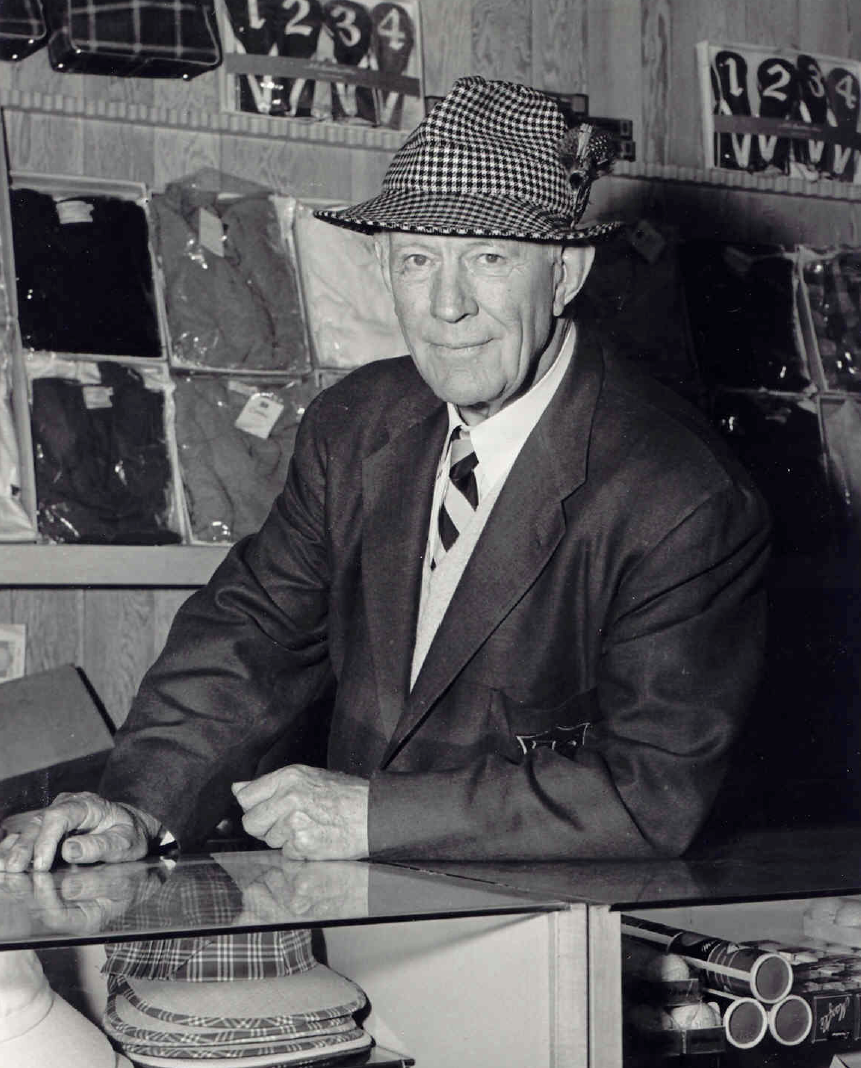 During the opening round, the crowd following Bobby Jones began running between shots to catch a glimpse of the superstar. To prevent total chaos, Peter Hay let out a continuous bellow of "Don't run, don't run." This became Hay's trademark. Although Jones was eliminated early, he sent Peter Hay an autographed photo inscribed "To Peter Hay, The greatest golf marshal in the world."
In 1937, Hay started the Peter Hay Junior Golf Tournament. This was only one symbol of his dedication to working with youth. Peter Hay believed that through golf he could instruct the youth in the disciplines and rules of conduct they would need throughout life. Peter personally provided all of the prizes.
In 1943, the war was on. S.F.B. Morse deemed it prudent to temporarily close the Del Monte Course, and moved Hay over to Pebble Beach. He brought his youth tournament with him. Hay is largely responsible for resolving the dispute as to whether Pebble Beach is a "course" or a "links." Hay always insisted that any golf layout along the ocean was a links, as contrasted with an inland layout, which he called a course.
Although Hay came to PBGL, he didn't abandon Del Monte. As a Monterey City Councilman, he convinced the city to take on the course and run it "for the duration of the war," which they did, actually, until 1948.
In 1947, Bing Crosby brought his now-famous pro-am tournament to the Peninsula, and Peter Hay was at Pebble Beach to assure everything was in order. At the time, the other two peninsula pros (Cam Puget at MPCC and Henry Puget at Cypress Point Club) had literally grown up under Hay's tutelage—first as caddies and then assistants under Peter Hay at Del Monte. There was no question who was in charge.
In addition to his golf duties, Peter Hay was a member of the Monterey City Council from 1933-1947, and an active member and one-time president of the Monterey Rotary Club. He was also a Scottish Mason, and would travel back to Scotland every few years to visit family. Some rumored the trips were only to keep his brogue sharpened.
Among Hay's many attributes was a passion for introducing newcomers, particularly juniors, to the game. In 1957, he advanced his passion by developing one of the first short courses in the U.S. Hay worked with Jack Neville and General Robert McClure to design the course just across the street from Pebble Beach Golf Links.
Upon his death, March 10, 1961, at the age of 76, longtime employer and friend Samuel F.B. Morse said, "His whole life was dedicated in a most conscientious and loyal manner to the furtherance of the game of golf through the world and especially here. When he came here in 1916, there was only one course and the great development of the sport here was due largely to his efforts."