3 Ways Spyglass Hill Improvements Will Impact AT&T Pebble Beach Pro-Am Players
Some golfers would argue that Spyglass Hill Golf Course is more challenging than any other course on the Monterey Peninsula – Pebble Beach Golf Links included. "It's blasphemy to say this, but it's probably right there with Pebble as far as strategic value. It's awesome," former PGA TOUR player and current Golf Channel Analyst Arron Oberholser has said. "It took me quite a long time to learn it, but once you do, it's in my top five of all time."
But as it's known to do, Pebble Beach Company continues to find ways to enhance even its best assets. Since the 2019 AT&T Pebble Beach Pro-Am, a handful of improvements have been made to Spyglass Hill, resulting in increased playability in some areas, and a greater challenge in others. Here's a recap of the projects – and how they will impact play during this week's tournament.
1. Pivotal Par 5s Lengthened
The middle two par 5s at Spyglass have been lengthened as follows.
7 (+16 yards) to 545 yards
11 (+34 yards) to 562 yards
"The 7th and 11th holes are both par 5s that had become reachable in two with long irons for most championship players," says John Sawin, vice president & director of golf at Pebble Beach. "We are excited to have restored the risk/reward element to the second shot on those holes. In addition, the new tee on 11 is built nearly 20 feet in elevation above the prior, revealing one of the most dramatic views and shots on the course."
The pros will have to weigh their options at each of these holes, where they could be penalized if an aggressive second shot doesn't reach the green.
2. 17th Green Renovated
In recent years, it became apparent that one specific green had become almost too difficult to both play and maintain: the 17th. In terms of playability, hole location options were limited due to the green's severe slope, particularly at today's championship speeds. Agronomically, the native soil under the green did not allow for proper drainage, leaving the area saturated by any amount of rain.
In the summer of 2019, both these challenges were addressed with a comprehensive renovation. First, a state-of-the-art drainage system was installed underground. While invisible to the eye, the system includes over 2,000 feet of piping, optimal sand profile, and a SubAir unit. As a result, Bob Yeo, Superintendent at Spyglass, and his maintenance team can better control the moisture content in the green, providing consistent playability year-round.
On the green itself, 1,000 square feet of putting surface was reclaimed from areas that had gradually transitioned to rough over the past five decades, restoring the green back to its original size. In addition, several slopes were gently softened, making them more appropriate for today's green speeds. As a result, the number of usable hole locations has more than doubled. This means that pros playing in the 2020 AT&T Pebble Beach Pro-Am will face new hole placements for the first time.
3. A More Challenging Finish
Advancements in technology had also turned the 18th hole into a driver and a wedge in recent years, as most players could easily reach the downslope 265 yards from the tee. With 25 yards of empty land behind the tee, Sawin and his team saw an opportunity to restore some teeth in the finishing hole. "Our new tee brings the fairway bunker back into play and makes it more difficult to reach the downslope," said Sawin. "Our hope is that more approach shots will be played from the top of the hill, as Robert Trent Jones, Sr. intended when he designed the hole 50 years ago."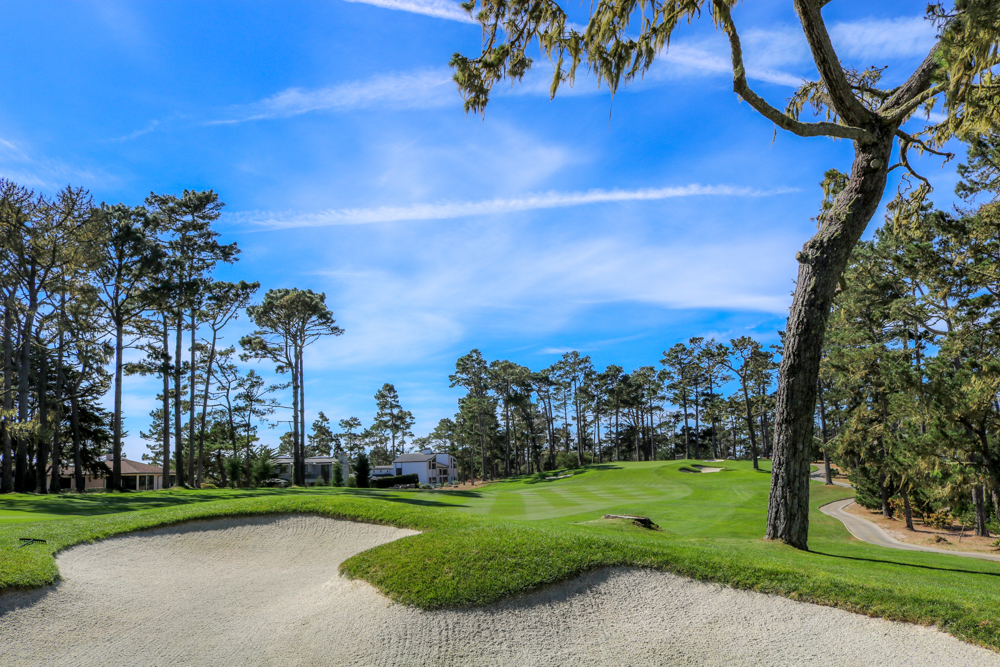 "
Our new tee brings the fairway bunker back into play and makes it more difficult to reach the downslope.
"
We all look forward to seeing how our favorite professionals navigate these changes at one of the PGA TOUR's most challenging courses.
3 Ways Spyglass Hill Improvements Will Impact AT&T Pebble Beach Pro-Am Players