Looking forward to the 78th U.S. Women's Open
It is the oldest Major championship in women's professional golf and the one every player wants to win. The U.S. Women's Open has challenged and crowned the game's greatest champions since 1946. Patty Berg fittingly won the inaugural championship, one of her record 15 Major titles. LPGA legends Mickey Wright, Annika Sorenstam and Babe Zaharias have all earned the title U.S. Women's Open Champion, as well as Californians Juli Inkster and Paula Creamer.
For the first time in history, the U.S. Women's Open is coming to Pebble Beach Golf Links, America's #1 public golf course, July 5-9, 2023 for its 78th playing.
500 days before the best women golfers in the world arrive at Pebble Beach Resorts to vie for the most coveted title in women's golf, Pebble Beach and the USGA unveiled a logo to commemorate the history of the occasion.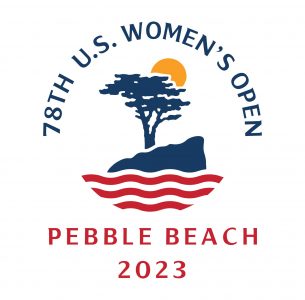 The new logo features three iconic images:
Lone Cypress: a symbol of resilience that has stood on its rocky perch above the Pacific Ocean for hundreds of years. The tree has become synonymous with a golf course that has hosted 13 USGA championships.
Sunrise: conveying the dawn of a new era as the best in women's golf are set to compete on the championship course that has shaped so many legacies.
Undulating red waves: evocative of the stripes of the American flag, represent the impact the event will make in women's golf for generations to come.
The 2023 U.S. Women's Open adds to the rich heritage of women's championship golf at Pebble Beach, which has hosted two U.S. Women's Amateurs as well as the annual TaylorMade Pebble Beach Invitational, the premier pro-am where female professionals compete for the same purse alongside the men.
You can be a part of history and sign up to volunteer for this momentous event. There are various volunteer packages and committee options to choose from. Registration will be open to the public in June 2022.
Corporate Hospitality is also available to create the perfect entertainment environment to engage your guests, existing and potential customers, or to offer a once-in-a-lifetime sales incentive for your team. This is a rare opportunity to enjoy all that Pebble Beach Resorts has to offer, while witnessing the greatest players on golf's grandest stage as they vie for the game's most coveted title. Click here for more information.
Tickets are on sale now! Visit the USGA website and secure your place in history.